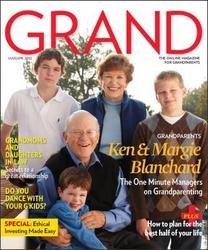 I think the goal of all grandmothers and grandfathers is to get an 'A' from their grandkids
St. Petersburg, FL (PRWEB) March 2, 2010
GRAND Magazine, the online magazine for today's active grandparents, proudly announces that its March/April issue, featuring an exclusive interview with leadership and management thought leader Ken Blanchard and wife Margie, is available today online for subscribers at http://www.GRANDmagazine.com.
The March/April issue focuses on investment, management and planning – in both business and personal relationships. Few people have influenced the day-to-day management of people and companies more than Ken Blanchard through his numerous books and educational seminars, so his insights are fitting and provide valuable advice to the more than 70 million grandparents in the U.S.
The Blanchards are interviewed by author and senior management counselor Richard J. Anthony Sr., himself a grandfather of 15. In the article Ken discusses his other-centric approach taken with grandchildren Alec Medina, 4; Kurtis Blanchard, 13; Kyle Blanchard, 11; Atticus Hickok, 17; and Hannah Hickok, 20. Margie describes the life philosophy that she wishes to impart to her grandchildren, and the idea she had that gives language to her grandchildren so they can retain family memories and identify what is important. She also shares which cause she would challenge all grandparents to take on.
"I think the goal of all grandmothers and grandfathers is to get an 'A' from their grandkids," said Ken Blanchard, Chief Spiritual Officer, The Ken Blanchard Companies.
Dr. Ken Blanchard is a prominent author, speaker, and business consultant. He is among the most influential leadership experts in the world, respected for his groundbreaking work in the fields of leadership and management, which began with the launch of his best-selling book The One Minute Manager, co-authored with Spencer Johnson, which sold more than 13 million copies and remains on best-seller lists. Ken and Margie Blanchard are co-founders of The Ken Blanchard Companies, an international management training and consulting firm established in 1979 in San Diego, CA. Ken is the co-author of several books, including Raving Fans, Gung Ho!, Leading at a Higher Level, Know Can Do!, The One Minute Entrepreneur and most recently Who Killed Change? and Helping People Win at Work. His books have combined sales of more than 18 million copies, and have been printed in more than 25 languages. Ken has been inducted into
Amazon's Hall of Fame as one of the top 25 best-selling authors of all time.
"There are 70 million grandparents in the U.S., and more than six million American children being raised full time by grandparents," said Christine Crosby, founder and publisher, GRAND magazine. "We are delighted to be able to bring to readers Ken and Margie's adapted version of their inspirational leadership philosophies to the valuable role of grandparenting."
The article and issue is accessible to subscribers of GRAND Magazine, which is available at: http://www.GRANDmagazine.com.
The Ken Blanchard Companies
With over three decades of helping leaders and organizations, more than 18 million books in print, programs offered in more than 12 languages and clients across six continents, The Ken Blanchard Companies® is recognized as one of the world's leading training and development experts. For more information visit: http://www.kenblanchard.com.
GRAND Magazine
GRAND magazine is an online monthly magazine that serves the more than 70 million U.S. grandparent market. It is delivered exclusively in digital format. It is published by GRAND Media, LLC, which was established in 2004. For more information about GRAND magazine visit: http://www.GRANDmagazine.com.
###
This press release was distributed through PR Web by Human Resources Marketer (SeniorCare Marketer: http://www.seniorcaremarketer.com) on behalf of the company listed above.