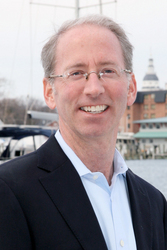 "We are fortunate to have the best clients in the industry and are excited to offer expanded services to help them grow their businesses by successfully navigating through international markets."
Annapolis, MD (PRWEB) March 2, 2010
Compass Marketing (http://www.compassmarketinginc.com) Chairman and CEO John White announced the launch of a new international division to be directed by newly appointed Senior Vice President James C. "Chip" DiPaula, Jr. As the industry leader for consumer products sales and marketing, Compass has created the international division to facilitate their clients' reach into international markets.
According to Chairman White, "We are fortunate to have the best clients in the industry and are excited to offer expanded services to help them grow their businesses by successfully navigating through international markets." Compass proudly represents clients including, McCormick, Procter & Gamble, Mars, Kellogg's, Johnson & Johnson, Unilever, Heinz, General Mills and others which collectively have over $300 billion in annual sales.
Before joining Compass, DiPaula was the Chief Operating Officer for Petrie Ross Ventures, the premier developer in the Mid-Atlantic region—with a national reputation for creating successful retail centers and exciting mixed-use properties. As COO, Mr. DiPaula managed day-to-day corporate operations, leasing, financing, property management, marketing, and company-wide strategies and systems. DiPaula currently serves on the boards of The Chesapeake Bay Environmental Center, The Annapolis and Anne Arundel County Conference and Visitors Bureau, and The Annapolis Community Foundation.
Before becoming COO of Petrie Ross, Mr. DiPaula served as Chief of Staff and Secretary of the Maryland Department of Budget and Management for Governor Robert L. Ehrlich, Jr. As Chief of Staff, Mr. DiPaula served as Chief Operating Officer of State operations with oversight for all executive branch agencies, including over 80,000 Executive Branch State employees and the State's $29 billion annual Operating Budget.
DiPaula brings to his responsibilities nearly two decades of hands-on budgeting and management experience. In 2000, he served as the Chief Executive Officer of the successful Republican National Convention in Philadelphia. The youngest person ever to run a national convention, DiPaula managed all aspects of a $100 million event that ultimately leveraged $270 million in investment for the region. He also was the Assistant Convention Manager of the 1996 GOP convention in San Diego, where he managed a $30 million budget.
About Compass Marketing Inc.
Compass Marketing, Inc. is the leading marketing and sales company for consumer products in the country. Chairman & CEO John White founded Compass Marketing, Inc., headquartered in Annapolis, MD, in 1998. 10 years later, Compass Marketing has grown to now proudly represent a powerful portfolio of many Fortune 100 clients.
For more information contact Alisa Greenwood, Compass Marketing, Inc. at 410-268-0030 x200.
###