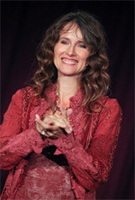 "When women try to model a man's money habits they end up with excessive debt, more "month than they have money" and sleepless nights spent worrying about how to pay their mortgage."
Tucson, AZ (PRWEB) March 2, 2010
This one time event is essential for any woman entrepreneur who wants to learn how to end — once and for all — the self-sabotaging money habits that keep them from achieving success and creating the kind of security they must have to feel happy, safe and successful.
What participants will learn on this free call will help them expertly attract and keep more money without giving up their femininity, disempowering their man or slaving away at their business.
Highlights will include: The 5 keys to getting money to fall in love with them and 3 ways to think richly and make decisions like a million-dollar woman, even if they are struggling or lacking in clients and customers.
"Women are wired to handle money completely differently than men," says Kendall. "Women typically crave security, a beautiful environment and a way of helping their family or community. Men, on the other hand, are typically driven by the desire to provide as well as accumulate status toys such as boats and expensive cars. So, it's no wonder that when women try to model a man's money habits they end up with excessive debt, more "month than they have money" and sleepless nights spent worrying about how to pay their mortgage."
Kendall and Ali are going to teach the imperative shifts women entrepreneurs must make to protect themselves and their business from being held back — consciously or unconsciously — by those around them and how to truly start charging the value that they and their offerings are worth.
The two are known for their results driven business and marketing strategies and for helping women around the world journey to financial freedom through lifestyle entrepreneurship.
Participants will learn how to let go of guilt and accept more abundance in their lives, how to lead the "money dance" every time they take the floor, how to stop treating themselves like a commodity and how to adopt the million dollar mindset. To discover Kendall and Ali's secrets to being successful women entrepreneurs and how to attract and keep more of their own wealth, women entrepreneurs should visit http://tinyurl.com/secretenergyofmoney.
Kendall SummerHawk, the Million Dollar Marketing Coach, is an expert at helping women entrepreneurs, at all levels, design businesses they love and charge what they're worth and get it. Kendall delivers simple ways entrepreneurs can design and price their services to quickly move away from 'dollars-for-hours work' and create more money, time, and freedom in their business. For free articles, free resources and to sign up for a free subscription to Kendall's Money, Marketing and Soul weekly articles visit http://www.kendallsummerhawk.com.
Ali Brown, Founder and CEO of Ali International LLC, named one of the Inc. 500 fastest growing companies in the nation for 2009, is one of the most sought-after business success coaches for women entrepreneurs, with over 40,000 members in her programs internationally. Ali is the inspirational driving force behind a rapidly expanding business empire that now includes Ali Magazine, Ali Boutique, Millionaire Protégé Club, and live events including SHINE. She is devoted to helping women around the world journey to financial freedom through lifestyle entrepreneurship. All of her brands and programs can be accessed via http://www.AliBrown.com.
###