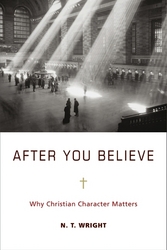 A follow-up to Wright's past work, this volume will appeal to Christians who appreciate biblical interpretation that hews to tradition but incorporates an emphasis on contemporary social justice as an element of Christian virtue. - Publisher's Weekly
San Francisco, CA (PRWEB) March 2, 2010
In the tradition of his award-winning books Simply Christian and Surprised by Hope, Bishop N. T. Wright's AFTER YOU BELIEVE: Why Christian Character Matters(March 2010; HarperOne) topples the accepted wisdom about what we think the Bible teaches. Wright turns his attention to the surprisingly neglected but crucial question: How shall we live?
Wright argues that people are so preoccupied about who gets into heaven that they forget not only that much of the New Testament is about the here and now, but also that even the passages about heaven are there to help us know how to act in our daily lives here on earth. In fact, unless we understand that much of the New Testament focuses on what kind of character we should strive for, we are doomed to get trapped in the law versus grace paradox that the church has struggled with from its earliest days.
By disclosing Christian virtues that are the goals of the Christian life, Wright helps readers find new purpose and clarity for our lives today. Wright takes the reader on an eye-opening journey through key biblical passages that promises to radically alter the work of the church and the direction of our lives.
N. T. Wright is Bishop of Durham for the Church of England and one of the world's leading Bible scholars. He has been featured on ABC News, Dateline, The Colbert Report, and Fresh Air. He taught New Testament studies for twenty years at Cambridge, McGill, and Oxford Universities. He is the award-winning author of Surprised by Hope, Simply Christian, The Challenge of Jesus, The Meaning of Jesus (co-authored with Marcus Borg), as well as the much heralded series Christian Origins and the Question of God.
AFTER YOU BELIEVE:
Why Christian Character Matters
by N.T. Wright
HarperOne; March 2, 2010
Hardcover, $24.99
ISBN# 978-006-1730559
###