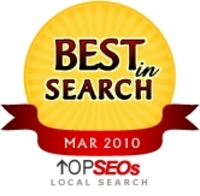 Columbus, OH (Vocus) March 2, 2010
Top SEOs, the leading independent authority on search vendors, released the March 2010 rankings best local SEO and local search (http://www.topseos.com/rankings-of-best-local-search-companies) companies this week. Localize It was recognized as the fifth place winner out of the thousands of Local SEO and Local Search companies who were put through an extensive evaluation process by an experienced research team in order to find the best local search firm. Local search was defined by Wikipedia, as the use of specialized Internet search engines that allow users to submit geographically constrained searches against a structured database of local business listings. Typical local search queries include not only information about "what" the site visitor is searching for (such as keywords, a business category, or the name of a consumer product) but also "where" information, such as a street address, city name, postal code, or geographic coordinates like latitude and longitude. Examples of local searches include "Davenport IA, Hotel", "Sarasota Insurance", and "OBX SEO". Local searches exhibit explicit or implicit local intent. A search that includes a location modifier, such as "Columbus, OH" or "14th arrondissement", is an explicit local search. A search that references a product or service that is typically consumed locally, such as "restaurant" or "nail salon", is an implicit local search.
Localize It, a Columbus OH SEO based firm with satellite offices in Outer Banks, NC and Cedar Rapids, IA, started in 2008 to help bridge the "internet gap" for the locally based businesses who need to have their own local search visibility. When over 70% of shopping experiences begin with an internet search, a local business simply has to be a part of those search results in order to be part of the buying process.
Scott Guthrie, SEO Consultant and SEO Strategist with Localize It, had this to say, "It's all about a cost effective plan that offers a return on investment for the small to medium business. Local search is constantly growing and changing, so the efforts made now will continue to be solid investments in the future. We have affordable local search placement for as little as $595, so every business can afford to be visible online. The real key to results is research and consistency. Search volume, buyer demand, how the competition shapes up: add it all together and then plan the strategy for the client. It also feels great to be helping local businesses. These are the guys on the frontline of rebuilding the economy"
Localize It has shown that increased local presence equals increased business. Hotel reservations, wedding facility rentals, chiropractor appointments, advertising sales, real estate property, even funeral service requests have seen increases as a direct result of Localize It's efforts.
Our hotel researched a few other internet companies and found Localize It offered a complete package at very affordable cost. Their primary focus was not only to create a beautiful website but how to gain top positioning and ranking for your site in search engines when looking for relevant words and phrases. They worked with us on the design, understanding and guiding us through the keyword / phrase selection, link building and setting up title tags on pages that make the individual pages get noticed by the search engines. Our hotel now stands out on local search engine pages for various Quad City search phrases. We have been very pleased with their work and ongoing support. Our website went live in Late Fall 2009 and is already returning reservations and calls for our wedding and banquet amenities. Last month alone we had over 30 reservations directly purchased from our website. I would highly recommend this firm to anyone that is looking to hire a competent and reliable internet marketing firm." Testimonial from the Owner of the Quad City Clarion Hotel and Conference Center.
Topseos.com was established in 2002 with the mission of helping businesses find the best Internet marketing (http://www.topseos.com) solutions. Its rankings are recognized and reputed throughout the entire industry. Since 2002, the Internet research firm has evaluated thousands of vendors, connected with more than 50,000 monthly online visitors and exhibited at all the major industry conferences.
To learn more about Localize It, visit http://www.topseos.com/localizeit or visit our website at http://www.LocalizeItNow.com. Localize It is currently offering free evaluations to determine how the internet can better suit your businesses needs.
###