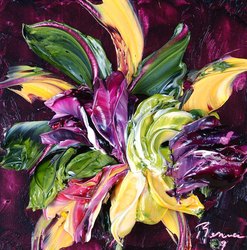 "Art is a way in which one soul can truly touch another."
Houston, TX (PRWEB) March 9, 2010
The bold and inspired work of Renea Menzies, a national artist and former model, will be displayed at the 2010 Artexpo in New York City, from March 25-28, 2010. Menzies will join other significant artists in the "reinvention" theme of this year's show. The annual expo will bring 25,000 buyers and 250 innovative exhibiting artists under one roof at Pier 94 off the Hudson River.
Menzies' sculpted oil paintings display the intricate interface of provocative colors that call out a movement of the imagination in a textured oasis. Art enthusiasts say her use of oils creates a lucious and buttery appearance similar to ribbon candy. Each of the swirls she creates takes the viewer on another journey of extraordinary proportion. "My creative soul was inspired by a desire to evoke my emotions at the deepest level with vibrantly colored swirls that exude off the canvas and into the heart of the viewer," Menzies said while preparing for the expo.
All of Menzies' creative energy is expressed as part painter and part sculptor. Menzies' use of the pallet knife is much like the brick mason works with mortar as she blends a variety of colors moving the paint around the canvas. The movement creates a 3-D appearance as the shapes and contours reveal each magnificently sculpted oil flower. Her work is completed with a combination of delicate design and a bold finish.
Her journey and inspiration as an artist began over a decade ago. As a professional international model, she traveled the world to some of the most exotic locations. Her sense of style and flair of the paintbrush are heavily influenced by the Spanish, Mexican, French, and Japanese cultures and designs she admired throughout her travels.
After her sojourn, Menzies returned to her hometown in Houston, to raise her two children who influence her creativity daily. Menzies affinity for nature, which is seen in many of her paintings, was driven by her upbringing with three brothers who all had a passion for the outdoors. She also attributes her artistic knowledge to her studies under artist JD Miller of Dallas.
Renea's work is currently shown at galleries around the nation including the following: Rive Gauche, Scottsdale, AZ; Houshang's Gallery, Sante Fe, NM; Mckibben Studios, Laguna Beach, CA; Royal Street Fine Art, Aspen, CO; Malibu Art, Malibu, CA; Art Elite, Sausalito, CA; Siamak Art Gallery, San Diego, CA, Elinoff & Co. Art & Jewelry, Telluride, CO; Bismarck Studios, San Antonio, TX; Bering and James Art Gallery, Houston, TX; and TX Artworks, Austin, TX. More gallery information is located on Renea Menzies' website.
Free admission for trade professionals with registration online prior to the show!
http://www.studiorenea.com
Renea Menzies
713-806-7076
###