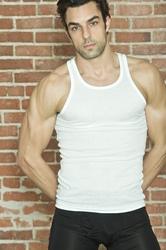 Even though everyone knows the tank top by the 'WifeBeater' name, I found it offensive and I'm sure women find it offensive too
Santa Monica, CA (PRWEB) March 2, 2010
When LA undershirt innovator Mike Schwarz reinvented the traditional 'WifeBeater' tank top to make it more stylish and comfortable with new textiles and design, he was very uncomfortable with the old name. Although the 'WifeBeater' tank has been in the lexicon since the early days of Marlon Brando (Waterfront, Streetcar Named Desire) and Sly Stallone (Rambo), Mike didn't like the connotations the tank top slang evoked.
"Even though everyone knows the tank top by the 'WifeBeater' name, I found it offensive and I'm sure women find it offensive too," Mike says.
So, with the rebirth of the old tank, Mike and his wife Kim named it the Protector.
The new tank top (manufactured in LA) is not only new in name, but is now made with a new, super luxurious fabric blend of Lenzing Modal & Cotton, making it more durable, more absorbent, and more color vibrant than 100% cotton undershirts. The Protector will last longer and look better than typical cotton tank tops over time and washings.

Mike and Kim have decided to donate 50 cents from every Protector sale to women's refuges in LA.
Fittingly, Mike is sending a Protector to a big fan of tank tops, President Obama! A Protector for the Protector!
The Protector is the latest in Mike Schwarz's RibbedTee range (http://www.ribbedtee.com) which have become the hottest selling undertees online in just eighteen months.
Prior to his success with RibbedTee, Mike Schwarz was a retrenched Internet VP. While recuperating on his couch after surgery, he had an epiphany and came up with the idea for a range of superior undertees based around the ribbed cotton style.
Images of the Protector are available at http://www.ribbedtee.com/protector
Mike can be contacted directly on Cell 408-396-0013 or 805-367-4435
###