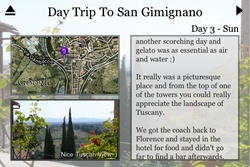 The idea behind "My Vacation™" grew during a trip to Jasper, Canada. It was a trip of a lifetime, worth treasuring. We all have fond memories of past vacations, but those memories fade away over time.
Cambridge, UK (PRWEB) March 15, 2010
Jasper Apps today announced the release of My Vacation for iPhone and iPod Touch, available on the App Store. My Vacation is an app for travellers which is packed with features, all within the app rather than simply being an interface to a website, with yet another login. Regardless of network coverage the interface makes it simple to capture the memories of a trip, rather than let them be forgotten.
Once back from vacation, despite best intentions, there is rarely the time or inclination to spend time on a computer to record what happened and to label the photos taken. My Vacation harnesses the iPhone interface, camera, and GPS to encourage users to update a journal during the vacation.
Features:

Plan activities and what to pack before the vacation.
Take photos and video during the vacation, together with captions and location data.
Write or record audio journals for each day.
Interactive playback of the vacation including maps, photos and journals.
Upload photos and journals to Facebook, Twitter and email.
The release date is perfectly timed for those going on vacation during Easter, or starting to plan for the Summer.
Device Requirements: iPhone and iPod touch running iPhone OS 3.0 or later
Pricing and Availability: My Vacation is available at an introductory price of $3 (USD) and available exclusively through the Apple App Store in the Travel category.
More Information
Website and purchase link: http://www.myvacationapp.com
Press pack: http://www.jasperapps.com/pages/press
Video: http://www.jasperapps.com/pages/tour
Screenshots: http://www.jasperapps.com/pages/screenshots
About Jasper Apps
Jasper Apps was formed in September 2009 by Tony Short. Drawing on 10 years experience in software development and project management, Jasper Apps is a new venture dedicated to developing innovative and beneficial iPhone applications. The company is based in Cambridge, UK. For more information go to http://www.jasperapps.com.
Apple, the Apple logo, iPod, iPod touch, and iTunes are trademarks of Apple Inc., registered in the U.S. and other countries. iPhone is a trademark of Apple Inc. App Store is a service mark of Apple Inc.
###