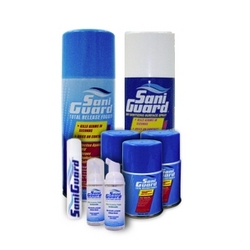 Of 3,000 U.S. travelers, 88% stated that they are concerned about germs when traveling.
Dayton, OH (PRWEB) March 8, 2010
SaniHome is the premier national distributor for SaniGuard's personal sanitizing products. The redesigned website features products dedicated to helping people fight the spread of germs, bacteria and viruses at home and in public places like planes, trains, buses, hotels, rental cars, elevator, day care centers and more. In addition to the foggers, travel sized personal sanitizing products, including an alcohol free hand sanitizer, that does not dry the skin nor pose a flammability threat.
The revolutionary Total Release Sanitizing Fogger will sanitize an entire room in just 15 minutes. The 8 oz. fogger will treat up to 625 sq. ft. and the 3 oz fogger will treat up to 155 sq. ft, ridding the room of disease causing microbes. Competitive products require up to ten minutes of wet contact for effective treatment, which does not allow them to be efficiently used on vertical surfaces, electronics or fabrics. Additionally, with SaniGuard there's no need for a potable rinse.
A recent survey by TravelAdvisor reported that of 3,000 U.S. travelers, 88% stated that they are concerned about germs, bacteria and viruses when traveling. SaniHome's goal is to educate consumers and industries that you don't have to be a germaphobe to take proactive steps to protect your health, at home. at work or while traveling.
The Centers for Disease Control and Prevention (CDC) recommends that you "sanitize areas where there are both high concentrations of dangerous germs and a possibility that they will be spread to others." Sanitizing these "hot zone" areas with SaniGuard is easy and instantaneous with our foggers and direct sprays. Additional information about the efficacy of the product and specific uses in various industries can be retrieved at: http://www.sanihome.com/applicationuses.php.
###