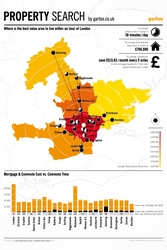 (PRWeb UK) March 4, 2010
Commuters working in the some of the UK's largest cities including Birmingham and Edinburgh could save up to £133 per month on mortgage costs by living two miles further from the city centre.
In the capital, commuters could save an average of £515 per month on mortgage repayments every five miles further they move towards Bedford from St. Pancras. Moving from Camden to Potters Bar - an added journey time of 17 minutes a day - could save £1,234 per month in mortgage repayments, including the cost of travel.
The research was based on average mortgage repayment rates for three-bedroom homes, calculated on a 5% interest rate over 25 years. Average house prices and travel distances were sampled from the centres of 25 cities and from 60 towns and suburbs surrounding Birmingham and Edinburgh. Property search engine Gartoo.co.uk, which analysed patterns in commuting distances and house prices, says there are good value areas for house-hunters to invest in this year.
"Despite lessons learnt from the recent slump of house prices, the switch of the housing market from a seller's to a buyer's one is a message that's still working its way through the system," says Ruben Martinez from Gartoo.co.uk.
"Even with houses in short supply, buyers can now be more ambitious in targeting areas that, in commuting terms, are becoming good value. The total commuting effort, combining time and travel costs, is infrastructure-dependent. Better future transport links to several areas will change the equation of house prices and commuting cost and time. Detecting those areas early on can provide wise investment opportunities."
Richmond was found to be the worst value area near London in terms of commuting times and house prices, as the average three-bedroom house price is £703,000 and the journey into Central London takes 53 minutes. Stratford was found to be the best value area for commuters into the city with the average three-bedroom house price at £262,000 and the journey into Central London just 16 minutes.
Outside of London there's a strong pattern too of potential savings on the cost of buying a home further from the city centre. House prices in Bedford, a 43-minute train journey into St. Pancras, currently average £186,000. In South East England three-bedroom homes in Canterbury, an 80-minute journey into London, start at around £150,000.
In major UK cities such as Birmingham and Edinburgh, moving just two miles out of the city centre can reduce mortgage costs considerably. In Birmingham, average house prices decrease once four miles out of the city centre in most directions. The cheapest properties found were south of Birmingham in Netherton (£119,000 for a three-bedroom house). For every two miles further from Birmingham city centre and closer to Netherton house-hunters look, an average of £114 per month can be saved on mortgage repayments.
In Edinburgh, homeowners can save on average £152 per month on mortgage repayments for every two miles away from the city centre and towards Newbridge they live. The suburb of Newbridge, eight miles west of Edinburgh, was one of the cheapest locations found within 10 miles of the city, where three-bedroom houses average £125,000.
New rail lines between London, Oxford and Birmingham, are also set to impact housing decisions for commuters over the next few years.
Ruben Martinez adds: "Delays in public transport and stress from traffic can add to the costs of commuting. However, commuting can help relieve pressures on housing supply, education and essential services in London and other cities. As planned improvements to infrastructure are made, suburban homes in well-connected areas remain a sound investment."
Londoners spend on average 38 minutes travelling from home to work, 10 minutes more than the average UK worker.
Aiming to banish irrelevant search results, Gartoo.co.uk is a search site experimenting with specialised search technology which focuses on UK property keywords entered by the house-hunter to find the most accurate fit.
Notes to editors:
1. Full report and data at http://blog.gartoo.co.uk/london-commute-report.pdf (PDF and images available on request)
2. About Gartoo
Founded in August 2009, Gartoo is an initiative by Lokku Labs, a platform of Lokku Limited. Gartoo was originally developed to trial specialised semantic search technology to allow home hunters to perform very specific queries to a database of properties. Lokku Labs is testing full text search and many other techniques on Gartoo.
###