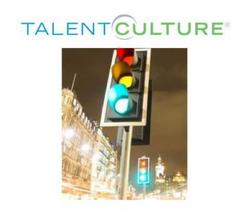 I launched TalentCulture.com because I saw the need for an online community that combined the topics of culture, branding, sustainability, digital media and innovation
Cambridge, MA (PRWEB) March 2, 2010
TalentCulture has launched a new online community blog for creating and sharing the latest perspectives on business culture and innovation and their relationship to personal growth and satisfaction.
TalentCulture is a talent acquisition and career consulting firm that matches career seekers with corporate cultures that provide culture fit. TalentCulure founder Meghan M. Biro is a seasoned entrepreneur who focuses on developing personality and culture matches between businesses and career seekers. In the process, she is driving new business channels for her industry.
"I launched TalentCulture.com because I saw the need for an online community that combined the topics of culture, branding, sustainability, digital media and innovation," said Biro. "With the help of some of the best thinkers on the topics of career, personal branding, sustainability, culture and innovation, I'm tremendously excited to begin the dialog with the broader community of businesses executives and career seekers."
The TalentCulture.com community includes a roster of strategic partners and content contributors, including leading business and media experts Lori Dernavich, Kevin W. Grossman, GL Hoffman, Charee Klimek, Chris Perry, Mike Ramer and Cathy Taylor.
The TC contributors will spark conversations on a broad range of topics – Gen Y to Gen X to baby-boomer generational issues and what they mean for careers and the world around us. Other discussions will include career, workplace, culture fit, innovation, digital media, the arts, personal and corporate branding and sustainability.
You can participate in new TalentCulture.com business community at http://www.talentculture.com. Follow TalentCulture on Twitter as well at @TalentCulture.
About Meghan M. Biro
Prior to establishing TalentCulture, Biro held a variety of leadership positions within the staffing and career consulting industries, serving as a Senior Consultant in the Software Technology Group of Winter, Wyman & Company before moving on to serve as a ground-floor executive at two start-up recruitment ventures. She is a member of the National Association of Personnel Services (NAPS), The Society for Human Resources Management (SHRM) and several entrepreneurial organizations. Meghan also serves on the Alumni Council for Greens Farms Academy, serving as a career mentor to students and recent graduates.
About TalentCulture
TalentCulture is a firm that partners with companies and qualified, motivated candidates to achieve successful results. Headquartered in Cambridge's Harvard Square, TalentCulture leverages meaningful and productive business connections with every generation – including the most advanced forms of online and social media – to create strong relationships that meet the specific needs of its clients, with particular expertise with both privately-held and venture capital-backed start-ups and small and mid-sized organizations.
This press release was distributed through PR Web by Human Resources Marketer (HR Marketer: http://www.HRmarketer.com) on behalf of the company listed above.
###