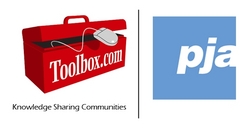 Although global markets have stabilized and some indicators point to improving economic conditions, we are seeing a largely jobless recovery. People need to give themselves every career advantage
Scottsdale, AZ and Cambridge, MA (PRWEB) March 2, 2010
The latest wave of Toolbox.com/PJA research reveals that social media has become critical to career advancement across IT, Finance, and HR professions. This survey of more than 4,300 global professionals reveals that smart professionals -- both job seekers and those looking to advance in their jobs -- find social media and online collaboration tools invaluable.
"Although global markets have stabilized and some indicators point to improving economic conditions, we are seeing a largely jobless recovery. People need to give themselves every career advantage," commented George Krautzel, co-founder and president of Toolbox.com. "The results of this wave of research confirm that professionals are utilizing social media as an important part of career management. It has become a greater part of workflow to access relevant information, build their reputation, and create professional opportunities."
The survey shows that active participation in social media is seen as key to career advancement, both in building competitive edge as a job candidate and keeping it as a professional. 55% of IT professionals say social media is important in building their personal brand. Among HR and Finance professionals, responses were 52% and 49%, respectively. All three groups surveyed believe social media's biggest impact on career is to increase their level of expertise.
"The news for me here is that the true value of social networking isn't just the connection part, which most people have achieved, but the collaboration and ability to work together and solve problems," said Mike O'Toole, president at PJA Advertising + Marketing. "These results speak to the Social Media 2.0 world that we entered in 2009: it's no longer enough to just be there, you have to actively participate to get value out of it. I particularly enjoyed the open-ended response of one participant, who said, 'For my profession it is largely a credibility factor. Using social media helps me to demonstrate that I am not a fossil.'"
This is the fifth wave of Social Media Index survey from Toolbox.com, the operator of online communities for professional knowledge sharing and collaboration, and PJA Advertising + Marketing, 2008 BtoB Agency of the Year.
This survey series is designed to provide insights from executives and professionals on topical issues that affect decision making. More than 4,300 members of the IT, HR, and Finance communities at Toolbox.com participated in Wave V, conducted in January 2010. They shared insights on their use of social media to advance their career, its value in improving their chances as a job candidate, and what they find most valuable about social media for sharing knowledge and collaboration in the workplace.
View complete survey results: http://bit.ly/9yX235
Results also will be discussed in depth during PJA's "This Week In Social Media" radio program on March 4: http://bit.ly/8V3tkP
This survey revealed the following about social media usage:
-- Among IT executives and professionals, social media consumption continues to outpace editorial and vendor content consumption, leveling off at 4.59 hours per week from Wave IV (July 2009), compared to 3.05 hours of online vendor content and 3.35 hours of online editorial content. Social media represents 42% of total media consumption (compared to 31% for editorial and 27% for vendor content).
-- Consumption of social and user-generated content (blogs, podcasts, online communities, wikis, and profiles/social networking) continues to rise ahead of editorial media. The Toolbox.com/PJA Social Media Index now stands at 190*, compared to 132 for online editorial sources.
-- IT respondents named staying current (71%) and networking with peers (69%) as the most popular uses of social media. Among HR and Finance professionals, responses were 78% and 73% for staying current and 71% and 62% for networking, respectively.
-- More than half of IT decision-makers have responded to a question posed by a peer, while nearly 50% have posted a question themselves.
-- Quality and frequency of posting is seen as the most important attribute in a social media expert, followed by promptness and language proficiency.
-- Nearly half of respondents say that a social media presence greatly increases or increases their value as a job candidate, while more than 50% claim that social media is important or very important in building their personal brand.
-- Executives and professionals from all Toolbox.com communities (IT, HR, and Finance) agree that social media's biggest impact on career is to increase their level of expertise in their current job position.

Note: The Toolbox.com/PJA Social Media Index uses editorial media consumption in Wave I to calculate a mean score of 100.
About Toolbox.com:
Toolbox.com helps professionals do their jobs better by enabling them to easily share knowledge with experienced peers. The online communities at Toolbox.com include professional networking, blogs, discussion groups, wikis, and a vendor research directory through which executives and professionals collaborate to solve problems, make decisions, and increase workplace efficiency. Through the community, advertising partners can engage prospects and customers either directly or by integrating their message through a proprietary contextual matching engine. This combination of community and advertising value has made Toolbox.com a leading destination for professionals and a leader in online advertising. Toolbox.com is a division of Corporate Executive Board (NASDAQ: EXBD). For more information, visit http://www.toolbox.com, Twitter: Toolboxdotcom.
About PJA:
PJA is proud to be named 2008 Agency of the Year by BtoB Magazine. PJA is a $74 million advertising and marketing agency with offices in Cambridge, Massachusetts, and San Francisco, California. PJA serves a global roster of technology, life science and healthcare clients that includes: Novell, GE Healthcare, Boston Scientific, Akamai, Trend Micro, Infor, and TriZetto. For more information, visit http://www.agencypja.com.
MEDIA CONTACTS:
Bill Conn, Brand Manager / Senior PR Specialist
Toolbox.com
Twitter: bconn
610-840-0698, ext. 134
Mike O'Toole, President
PJA Advertising + Marketing
Twitter: motoole1
617-492-5899
###