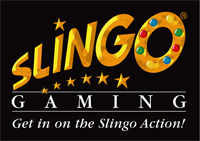 The Slingo gaming division extends its sincere congratulations to the lucky winner. We at Slingo, Inc. are delighted that Slingo slot machines and progressive jackpots continue to be a winning combination for both casinos and players everywhere
Hackensack, NJ (Vocus) March 3, 2010
The Slingo Bonus Reel slot machine in Atlantic City, New Jersey paid out a recent progressive jackpot of over $400,000 for one lucky Baltimore, Maryland resident.
The winning player hit the jackpot on February 17, 2010 at Bally's Atlantic City casino for a total of $478,508.92. This progressive payout adds to the millions of dollars won on Slingo slot machines throughout the world since Slingo, Inc first started licensing its brand for slot machines in 2001. The Slingo brand of slot machines has been available at Bally's Atlantic City casino, as well as several other casino locations for almost 10 years. The lasting presence of the Slingo Bonus Reel slot machine is a testament to the strength of the Slingo brand and the amount of value that Slingo slot machines add to any casino partners.
"The Slingo gaming division extends its sincere congratulations to the lucky winner. We at Slingo, Inc. are delighted that Slingo slot machines and progressive jackpots continue to be a winning combination for both casinos and players everywhere," said Dave Lyons, vice president of the Slingo gaming division.
The lucky Slingo machine features a video bonus event which is triggered when the "Let's Play Slingo" symbol appears on the third reel during a maximum bet. The progressive jackpots for Slingo Bonus Reel slot machines are exclusively available at: Harrah's, Bally's, Showboat and Caesar's in Atlantic City, New Jersey and Caesar's Windsor in Ontario, Canada. To learn more about this game and other casino products please visit: http://www.slingogaming.com.
About Slingo Gaming
Slingo Gaming is the casino gaming division of Slingo, Inc. that develops and licenses the intellectual property for the Slingo® brand of games to worldwide partners for use with casino slot machines, casino table games, lottery tickets and more. See what Slingo casino games are available at a casino near you by visiting – http://www.slingogaming.com.
###