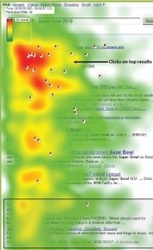 Search engines are feeling the pressure to better meet real-time demands, and the evolution of search is headed toward a higher degree of social integration
Traverse City, MI (PRWEB) March 3, 2010
Move over Google - there's a new sheriff in town. And it doesn't rhyme with ping. Today, people are spending more time on social networks like Facebook and Twitter, relying on them for the most up-to-date-news, and therefore spending less time with traditional search engines.
"We all know that Google doesn't take losing lightly," laughs Oneupweb Founder and CEO Lisa Wehr. "Instead of watching people choose social sites over a search engine, Google has decided to embrace user-generated content with real-time search results."
As Google explains, real-time news results are live updates from people on popular sites like Twitter and FriendFeed, as well as headlines from blog posts. These updates are given in real-time, so when someone conducts a search they will receive the updates on that topic that were published just seconds before.
But is anyone actually paying attention to the real-time search results? That's just what Oneupweb set out to discover with a detailed eye tracking study.
"We wanted to know if the average user is recognizing and understanding what real-time results are, if they are finding and actually clicking on them, and what they think about real-time results overall," explains Wehr.
To find the answers, Oneupweb conducted the study using two different groups. The first group was told to search for a product they might buy, and were called the "consumer" group. The second group was told to simply look for information on a product, and were called the "forager" group.
The results revealed some surprising trends:

The consumer group averaged 9 seconds to the first fixation on real-time results, whereas the information foragers took a full 14 seconds.
-The consumer group had 10 percent fewer clicks on the real-time results than their information foraging counterparts.
And only 55 percent of the participants could easily find the real-time results.
"Search engines are feeling the pressure to better meet real-time demands, and the evolution of search is headed toward a higher degree of social integration," says Wehr. "It's early yet, and everyone is still learning to adopt. It may be slow going at first, but those businesses that are the first to embrace this new kind of search will be the ones that succeed in the end."
To discover some other surprising statistics, including which type of results users spent more time engaging with-real-time or basic search results-visit OneUpWeb.com to download a copy of the study entitled Search Gone Wild: An Eye Tracking Study On Google's Real-Time Results.
About Oneupweb
Oneupweb has been an innovator in digital marketing for more than a decade, creating integrated online marketing plans that incorporate natural search engine optimization (SEO), paid search marketing (PPC), social media marketing, digital pr, display advertising, analytics, creative services, mobile marketing, website design, web 2.0 technology, audio/video/podcasting, and research, training and consultation. Heralded by an independent research firm for their leadership team, Midwestern work ethic and solid experience in optimizing complicated sites, Oneupweb has been named a Top 20 Search Marketing Agency by Advertising Age for three consecutive years, and CEO Lisa Wehr is recognized as an Ernst & Young Entrepreneur of the Year. The company publishes an award-winning blog entitled StraightUpSearch, and an award-winning monthly newsletter entitled OneUp Low-Down. Oneupweb is a privately held company located in Traverse City, Michigan. For more information on Oneupweb, please call 231.922.9977, visit OneUpWeb.com or follow them on Twitter @Oneupweb and @LisaWehr.
# # #