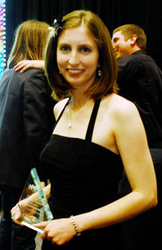 She handled her AAF-Baton Rouge workload professionally and gracefully, and it gave me tremendous peace of mind knowing she was handling the responsibilities of Communications for the club
Baton Rouge, LA (PRWEB) March 3, 2010
Mandy Porta, owner of Baton Rouge website design and marketing firm Success Designs, was awarded the honorable President's Service Award on February 20, 2010 at the annual American Advertising Federation - Baton Rouge(AAF-BR) ADDY® Awards show.
Porta's long list of club contributions and her unwavering commitment to AAF-BR made her the outstanding candidate for receiving this year's President's Service Award (formerly the Silver Medal), which is presented annually to the club member who has given the most toward the betterment of AAF Baton Rouge and its activities during the previous calendar year. Porta was selected by the AAF-BR board of directors based on nomination letters written and submitted by club members.
Porta currently serves as Communications Co-Chair on the AAF-BR board, a position she volunteered to assume in November when the former co-chair unexpectedly stepped down from service. In less than two months, Porta made a lasting mark on club communications as she worked diligently to redesign the printed monthly newsletter and weekly E-News bulletin and oversaw the redesign of the club's membership application, signage, and stationery package, all of which were far above and beyond her "regular" responsibilities.
Porta's willingness to help often led her to become involved in other areas of the club, too, including helping the Programs Committee bring national online and social media celebrity Gary Vaynerchuk to Baton Rouge for a seminar attended by nearly 275 local and regional business professionals.
Before making the move to Communications, Porta served AAF-BR as Workshops Chair, where her accomplishments were no less impressive. Within the first three months of her tenure, Porta successfully coordinated and implemented more workshops than had been done in the past two years combined. And she did all of this while running her own graphic design and marketing business, making time for her husband, and settling into a new home.
"She handled her AAF-Baton Rouge workload professionally and gracefully, and it gave me tremendous peace of mind knowing she was handling the responsibilities of Communications for the club," said fellow Communications Co-Chair Kelley Criscoe.
In response to her award, Porta says, "I'm honored to have received the AAF-BR President's Service Award. Everyone nominated for this award is truly deserving. They have all put a lot of effort into this club, making it a true asset to any business involved in advertising." Spoken like a true winner.
A full list of ADDY® 2010 Award winners can be found in the Winner's Book. Learn more about Mandy Porta and her Baton Rouge web design company at http://www.successdesigns.net.
###