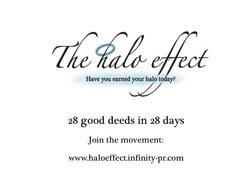 Thank you Halo Effect for making everyone take notice of the importance of ordinary human niceties and respectful actions we need to take.
Toronto, Ontario (Vocus) March 3, 2010
Due to the overwhelming success of The Halo Effect, the organization has announced the launch of the 'Halo of the Month Award', to encourage participants to continue doing good deeds throughout the year. The award will be given to nominees who have truly captured the essence of The Halo Effect.
The Halo Effect is a social movement created for the month of February encouraging people to perform 28 good deeds in 28 days and share their experiences with others. The magnitude of the movement has extended far beyond Facebook and Twitter. People worldwide are taking part, online and offline. Halo Effect founder Leanne Bucaro explains, "The Halo Effect has reached people all across the world. We have heard from participants in Italy, Australia and the United Kingdom, thanking us for this worthwhile initiative."
Top Three Lessons Learned From The Halo Effect:
1. No matter how small the good deed, the social impact is immeasurable. Lauren, participant of the Halo Effect says, "Thank you Halo Effect for making everyone take notice of the importance of ordinary human niceties and respectful actions we need to take."
2. Good deeds are infectious. When a person receives a good deed, they are inspired to carry on and do the same for someone else. Leanne Bucaro, founder of The Halo Effect, explains, "I never expected that I would be the recipient of someone else's good deed. It reaffirmed all the reasons I started doing this in the first place."
3. Giving truly does get you more. Doing a good deed can boost energy and improve mood. Connie, participant of The Halo Effect, explains, "I drove away from the shelter, daydreaming about the kids who would get my daughters' old clothes and how happy they would be. In short... it made my day! Thanks Halo Effect!"
The Halo Effect will award the 'The Halo of the Month' at the end of each month, beginning in March 2010. "We want to thank everyone who has helped The Halo Effect grow this February," says Leanne Bucaro. "We encourage you to stick with it and keep this movement alive by posting on Facebook and Twitter. Remember – make someone's day everyday."
For more information about The Halo Effect, please visit http://haloeffect.infinity-pr.com
###