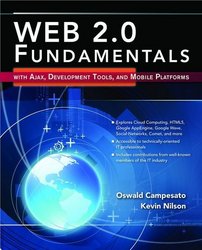 This is the book I wish had been available when I started learning about Web 2.0.
Sudbury, MA (Vocus) March 3, 2010 –-
Jones & Bartlett Publishers is pleased to announce the release of a brand new text titled, Web 2.0 Fundamentals: with AJAX, Development Tools, and Mobile Platforms, by Silicon Valley professionals Oswald Campesato and Kevin Nilson. The book examines many facets of Web 2.0 to increase the readers' knowledge of the concepts, tools, products, and technologies that make up the recent Web 2.0 landscape.
Designed for a broad spectrum of people with technically diverse backgrounds, the book covers the most recent developments in Web 2.0 programming topics and applications, including cloud computing, Google AppEngine, Social Networks, Comet, HTML5, semantic technology, and a chapter on the future of the Web, which contains contributions from more than a dozen professionals currently working in industry.
"This is the book I wish had been available when I started learning about Web 2.0," says author Oswald Campesato. "The diversity of products and tools that are described in the book chapters reflect the passion and intensity of our commitment to write a Web 2.0 book that we believe will meet the needs of an audience with a wide and diverse set of needs."
A CD-ROM, included with every new copy of the book, and a companion website (http://www.web2-book) provide online code samples from the book and links to relevant open source projects. In addition, the website provides the appendices (which are included on the CD-ROM) with an extensive set of navigable links for supplemental material and links for the Twitter (http://www.twitter.com/web2book) account and the Facebook page that are associated with this book.
ISBN-13: 978-0-7637-7973-3
MSRP: $49.95
Just Published and Now Available
About the Authors: Oswald Campesato is a co-founder and CEO of a stealth-mode Web 2.0 company in the social media space. He has worked for various companies, including JustSystems of Japan, Oracle, AAA, and several start-ups, and he has held numerous roles, including CTO, VP of Product Development, Director, Senior Development Manager, and Java developer.
Kevin Nilson is currently a Principal Software Architect for a large financial firm in Silicon Valley. He leads the Silicon Valley Web Developer Java User Group and the Silicon Valley Google Technology User Group. Kevin is a Sun Certified Java Programmer and Sun Certified Web Component Developer.
About Jones and Bartlett Publishers (http://www.jbpub.com)
Founded in 1983, Jones and Bartlett is a world-leading provider of instructional, assessment and learning-performance management solutions for the post-secondary, career and professional markets. We endeavor to develop educational programs and services that improve learning outcomes and enhance student achievement across a broad spectrum of academic, vocational and professional fields.
Contact:
Lindsay Ruggiero
Jones and Bartlett Publishers
978-579-8318
lruggiero (at) jbpub (dot) com
###