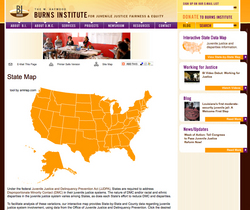 Racial and Ethnic Disparities Juvenile Justice Data Map
San Francisco, CA (Vocus) March 3, 2010
The San Francisco-based national nonprofit W. Haywood Burns Institute (BI) is announcing the availability of the first-ever "Racial and Ethnic Disparities Juvenile Justice Data Map" on its website, burnsinstitute.org.
Laura John Ridolfi, BI Law and Policy Analyst, will hold a media conference call tomorrow to explain how to utilize the State Data Map to find juvenile justice information. The call will be held WEDNESDAY March 3 at 9:00 AM (PST); 10:00 AM (MST); 11:00 AM (CST); 12:00 PM (EST).
The conference call line is: 800-977-8002. Participant code: 452753
With a few clicks on the map: http://www.burnsinstitute.org/state_map.php anyone may view the following information, where available, in any of the 50 states:
· One-Day Count Incarceration Data: Publicly available counts and rates of youth in juvenile residential placement facilities on any given day by State, collected every two years from 1997-2006. The BI has displayed the information by the race/ethnicity of the juveniles.*
· Annual Juvenile Justice System Data by Decision-Making Point: The rate of involvement of youth in the juvenile justice system by decision-making point (arrest, court referral, secure detention, transfer, etc), where available, at the State and County levels.**
· Other Information Including: 1) Each State's Three Year Plan for reducing Disproportionate Minority Contact (DMC); 2) Contact information for each State's Juvenile Justice Specialist and State DMC Coordinator; 3) States' statutory guidelines for detention and age of juvenile jurisdiction; 4) Information about each State Advisory Group (SAG), which is responsible for monitoring and supporting their state's compliance with the Juvenile Justice Delinquency and Prevention Act (JJDPA).
We invite the media and the public to use the map to learn more about racial and ethnic disparities in their juvenile justice system, and to contact us about questions related to context, legislation and solutions.
The W. Haywood Burns Institute (BI) is a nonprofit organization that works on the ground in more than 40 counties and has seen its methods result in significant local reductions in racial and ethnic disparities. Its Community Justice Network for Youth (CJNY) has more than 140 member groups across the U.S.

** Individual state and county data were made available through the OJJDP. If you have questions about the data, please contact your state's DMC coordinator or juvenile justice specialist for more information. For more information about this method of assessing disproportionate minority contact, the Relative Rate Index (RRI), and how to construct an RRI matrix, please visit: http://www.ojjdp.ncjrs.gov/ojstatbb/dmcdb/asp/whatis.asp
Press Contact: Shadi Rahimi, phone: (415) 321-4100 x103
Media Conference Call Scheduled for Wednesday
###