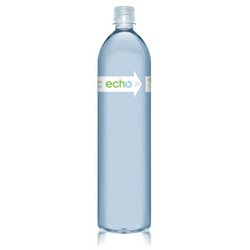 "Our goal is to rethink every aspect of how bottled water is made, sold and used. We saw the industry heading in the wrong direction and wanted to find a common sense approach to bottled water"
Los Angeles, CA (PRWEB) March 3, 2010
Echo Beverages, a Los Angeles based startup, is announcing the launch of its first product; echo water. Echo is packaged in a 100% post-consumer recycled plastic (rPET) bottle and urges people to change their bottled water habits by using the product as a convenience rather than a sole source of clean water.
"Our goal is to rethink every aspect of how bottled water is made, sold and used," says Michael Balyasny, CEO of Echo Beverages, "we saw the industry heading in the wrong direction and wanted to find a common sense approach to bottled water. That's what led us to create echo: it's responsibly packaged, made and sold locally, and encourages people to be conscious of the environmental impact of every bottle."
Responsibly Packaged:
By using 100% post-consumer recycled plastic echo reduces the lifecycle impact of every bottle by approximately 30% when compared to using virgin plastic. Echo's post-consumer bottle can be recycled again and turned into another new bottle, doing so reduces demand for oil and ensures we make the most of resources we already have. Echo also uses 100% recycled paperboard for its cases, and is continuously seeking new ways to further reduce the environmental impact of its packaging.
Made and Sold Locally:
Echo is made in Los Angeles, uses local tap as its water source and distributes locally to reduce the footprint associated with shipping water. "Extracting and shipping spring water, even from a source in Southern California has a huge environmental impact," says Michael "we couldn't justify using spring water when tap can be expertly filtered and enhanced with electrolytes to taste great and hydrate just as well or better than spring water. Shipping water doesn't make sense on any level."
Getting Involved:
In addition to rethinking how bottled water is made, echo is also encouraging people to recycle and change their bottled water habits. "Even in California the recycling rate is only around 65%. We wanted the recycling rate for echo to be as close to 100% as possible," says Michael, "the product's design encourages people to recycle and get involved by doing things such as peeling the label off to help the recycling process. It is a small way to help, but it is thought provoking."
The company also urges people to remove the cap and safety ring before recycling to ensure that incompatible plastics are separated before entering the recycling stream. "We're just getting started, we have other ideas we're working on to get people more involved," adds Michael.
Echo will begin distribution in Los Angeles County and several neighboring counties later this month. The company is also planning to showcase echo water at the Natural Products Expo West which starts on the 12th of March and runs through the 14th at the Anaheim Convention Center (Hall E – Booth# 5440).
About Echo Beverages:
Echo Beverages is a Los Angeles based startup founded by two friends, Michael Balyasny and Isaac Traynis, in 2009. Echo's mission is to make simple, locally sourced and responsibly packaged beverages. The company's first product, echo water, aims to change the way bottled water is made, sold and used. To learn more about echo visit: http://www.joinecho.com or call 866-848-3246.
###