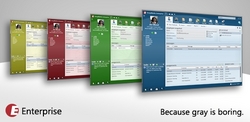 We are very excited about our new partnership with TempWorks. The seamless integration of our services will help our clients to improve speed and efficiency in a very convenient manner.
Saint Paul, MN (PRWEB) March 4, 2010
Cornerstone Staffing announces that they are operating at a faster and more efficient pace due to the implementation of TempWorks Software in the 4th quarter of 2009, and the integration of their software package with Call-Em-All.
Call-Em-All allows users to record a message in their own voice, and then distribute that message to a list of phone numbers. Cornerstone Staffing uses the service to fill open positions, hunt down missing timesheets, send general announcements, and many other applications. Integration with Call-Em-All is yet another way TempWorks can bring value to users and help them "Make More and Work Less". While the Call-Em-All service is already easy to use, the new TempWorks integration makes it even easier to apply the technology effectively in a staffing agency setting.
TempWorks Senior Analyst Jathan Moline comments, "With the new TempWorks/Call-Em-All integration, initiating a call to everyone in a TempWorks contact group happens in only one click. Call results, particularly responses from candidates interested an open position, are recorded as messages in that candidate's record in real time." Moline concludes "TempWorks clients get all the benefits of Call-Em-All without ever leaving TempWorks".
Brad Herrmann, President of Call-Em-All states, "We are very excited about our new partnership with TempWorks. The seamless integration of our services will help our clients to improve speed and efficiency in a very convenient manner." Hermann goes on to state that, "This type of feature shows how TempWorks can help improve the bottom line for their clients. We all know that speed is often the single biggest differentiator for a staffing firm, and with this integration complete, there is no faster method for quickly contacting large numbers of candidates" concludes Herrmann.
Heather Stroh, VP of Operations at Cornerstone Staffing Solutions explains ""Our recruiters are required to complete lengthy call lists on a daily basis to meet our client's order fulfillment needs. TempWorks integration with Call-Em-All has allowed our team to focus on filling orders quickly through actual hands-on recruiting & only speaking to interested candidates, rather than making it through their daily call list".
"We've already heard great feedback from our clients about the TempWorks/Call-Em-All integration, and we look forward to introducing our automated calling service to even more TempWorks clients in 2010" concludes Herrmann.
About TempWorks Software
Founded in 1994, TempWorks provides a full suite of enterprise staffing solutions. Designed to automate and streamline all facets of a staffing firm's daily operation, TempWorks Software offers fully integrated front and back-office staffing software, web portals for customers, employees, applicants and vendor management, and many additional modules. From recruiting to payroll and everything in between, TempWorks Software puts technology to work for staffing firms and their clients.
CornerStone Staffing is a ten-branch firm operating in the Dallas, TX metro area which selected TempWorks to provide a highly customized staffing software platform in conjunction with the outsourcing of time entry, billing and payroll functions.
For more information about TempWorks, please visit http://www.tempworks.com or contact Director of Public Relations, Laura Baratto, at 651-452-0366.
About Call-Em-All
Call-Em-All is a leading provider of on-demand automated voice broadcasting and SMS text messaging technology. Built to make life easier for individuals and businesses, Call-Em-All provides affordable access to an easy-to-use, professional automated calling and texting platform. Call-Em-All is supported by a collaborative team with more than 60 years of experience building first-class, mission-critical voice and internet applications for large and small corporate clients. The platform resides in a Tier-1 data center and employs the latest in voice and SMS text messaging technology to ensure security, redundancy, and the highest quality of service when placing automated calls and texts. For more information, visit http://www.Call-Em-All.com.
###