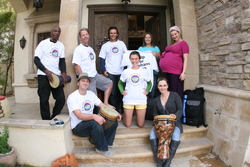 and now Haiti receives the benefits in their efforts to heal and revive children's spirits.
Palos Verdes Estates, CA (PRWEB) March 3, 2010
Ragan O'Reilly, local mom, CEO of In the Loving, Inc., hospital coordinator at Art of Elysium charity, and daughter of the very successful O'Reilly Auto Parts empire founder, financially partners with Help For Orphans International to build an orphanage and give aid to children in devastated Port au Prince, Haiti, after earthquake devastates in mid-January. Despite the fact that Ms. O'Reilly is only days away from delivering identical twins, she is one of the driving forces behind the scouting team that left for Haiti on February 24, 2010. The team's goal is to help build awareness and hope, and in turn raise additional funds to erect an orphanage named after In the Loving, Inc. This is one company who strives to put its money where its heart is.
Following in the footsteps of several American and international philanthropists such as Angelina Jolie, Brad Pitt, Wyclef Jean, and Doctors Without Borders, In the Loving, under the direction of Ragan O'Reilly, has sent an amazingly talented, loving, five-person team on a mission of compassion and joy, spreading cheer and encouragement through art and drumming to the ravaged Haitian capital. The volunteer team consists of Idris Hester, Life Coach and Lead Percussionist at Agape International Spiritual Center near Los Angeles; Taylor Johnson, Artist, Nanny and Trip Coordinator; Christopher Tucker, College Counselor; and Josef Geiger, Documentarian and Photo Journalist. The team is also bringing with them a Consultant who designs structures that are eco-friendly and use only natural, sustainable materials, to assess the resources, land, and gather all necessary information to successfully build an orphanage.
The first goal for the team is to investigate the land in Haiti and find the best place for an orphanage. Help for Orphans established previous contact there providing food drops and assessing land possibilities on which to build. In The Loving, Inc. and Sarah Ehrlich, the founder of Help for Orphans International, partnered on all donations in relation to this Orphanage Project. The company will raise funds together and utilize the expertise of Help for Orphans, a non-profit organization which provides superior educational facilities and materials for orphans around the world. In addition to funds generated by In the Loving, Inc., there is a generous $10,000 donation from O'Reilly's humanitarian family's foundation. O'Reilly Auto Parts, who recently partnered with CSK, acquired all 1200 Kragen Auto Parts stores, now making O'Reilly the 3rd largest auto parts chain in the country.
Donated art supplies from various sources, including Home Depot, have made it possible to fulfill the second of the company's goals to spread joy and optimism: to facilitate the creation of a mural for and by children in Haiti depicting their resilience, bravery, and beauty. The mural, originally envisioned by Taylor Johnson, will feature colorful butterflies surrounding a large healthy tree with the children's hand prints throughout.
The third goal is to help the children learn that joy comes from within, playfulness is good for the soul, and hope abounds. Drumming is the company's vehicle of choice to reach that goal. "The healing power of drumming plays a huge role in the company," says O'Reilly, "and now Haiti receives the benefits in their efforts to heal and revive children's spirits." Drum and rhythm circles, facilitated by Idris Hester, are scheduled throughout their nine days, utilizing drumming, clapping, and dancing.
Ragan O'Reilly, soon to be mother of three, is the co-founder and president of In The Loving, Inc., creator of Baby in Bliss, a CD and DVD designed to help babies, children, and their families more deeply connect with each other through optimistic emotional stimulation and messages of universal spiritual unity. "Our conscious loving 'family-team' of six are committed to world peace, love, harmony, spirit, emotional support for all, freedom for all, and authenticity of Self - starting with our beautiful babies," says President and Co-Founder O'Reilly.
Contact:
Ragan O'Reilly
President and Co-Founder
In the Loving, Inc.
(310) 791-3399
IntheLoving(at)gmail(dot)com
http://www.IntheLoving.com
Press Release url: http://www.intheloving.com
In the Loving logo
Sarah Ehrlich
Founder
Help For Orphans
(310) 888-8601
http://www.helpfororphans.org
###