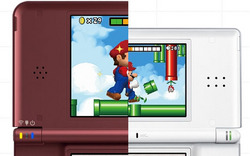 (PRWEB) March 4, 2010
The sizable screens of the Nintendo DSi XL enables easier viewing and will be especially appreciated by anyone with less-than-perfect eyesight.
The DSi XL which retails for £150 was launched last November in Japan where it sold over 100,000 units in its first two days of release.
"Despite all the pictures I've seen of it before, I was still surprised at its size," said console reviewer Adam Ulivi. He went on to say, "The screens are certainly striking and made me say 'wow' when I first saw them. I was definitely impressed."
Nintendo's DS Lite and original DSi will continue to sell at £100 and £130 respectively. The DS is the best selling console in UK history, eclipsing the PlayStation 2 in December 2009 with its 10,000,000th sale.
While the DS line directly competes with Sony's PSP, it also faces increasing competition from the Apple iPhone as it diversifies into a portable gaming device.
Nintendo is also branching out into new areas with software containing over 100 public domain books for the DS series. This type of application is more at home on larger screens and with the popularity of the console, it puts the DSi XL as a serious contender in the e-book market. Executive vice president of sales for North America, Cammie Dunaway told Bloomberg, "It's just one more way to enjoy your device."
The DSi XL is sold with a new pen-shaped stylus which is designed to be more comfortable to hold. The XL edition also comes pre-loaded with Dr. Kawashima's Little Bit of Brain Training: Arts Edition and Dictionary 6 in 1 with Camera Function alongside the DSi Browser.
The Nintendo DSi XL goes on sale this Friday and sells for around £150. Compare DS models and prices at DSi XL.
###