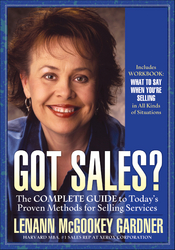 No matter how good the sales training, one learning experience that's short, exposing you to a bunch of new data, is not enough to transform your life forever.
Albuquerque, NM (PRWEB) March 3, 2010
A sales training program needs follow-up to work well and generate results, according to sales expert Lenann McGookey Gardner on a new YouTube video.
Gardner, who provides learning experiences in up-to-date salesmanship and closing skills, says that people need at least a few months of reinforcement after sales training sessions to really use the new information learned and turn those new skills into money.
"No matter how good the sales training, one experience, one learning period that's short, exposing you to a bunch of new data, is not enough to transform your life forever," says Gardner. "The truth is, you need some reinforcement as you use what you've learned so that you can get the most value from it."
Gardner's 120-day follow-up program generates solid gains in revenue or funding for professionals in her sales training sessions. The keys to change include:
A Daily Reminder: A Sales Tip of the Day is sent every business day by email to participants. "You want to keep the ideas of what you've learned in your mind when you're busy going about your daily activity," explains Gardner.
Expanding Ideas: Many people will initially be excited by all the new information they learn, but then fall back to earlier selling habits. "If you're using only one or two new ideas, you will be prompted to consider other ideas you were exposed to during sales training but haven't been using since," says Gardner.
Feedback on Progress: Every ten business days, participants send Gardner examples of situations in which they used something learned in the sales class, and what happened as a result of that, good or bad. With the feedback, Gardner explains, "I provide you coaching on that situation, so you can be better next time, or maybe so that you can save this sale."
Examine Sales Success Metrics: Following a sales class, every ten days look at the leading indicators that predict future sales success. "By analyzing your sales metrics, you can make sure that you are not only closing now, but you've got business coming down through the pipeline that you're going to be able to close at some point in the future," says Gardner.
Share the Triumphs and Challenges: Every two weeks, Gardner sends participants a multi-page newsletter that shares tales of sales success and challenges in their organization, so people can learn from each other. "We look at what you've been able to accomplish to drive new revenue for your business or funding for your project during the time period," says Gardner. "After 120 days, it's self-reinforcing."
Lenann McGookey Gardner, a Harvard MBA and a past #1 worldwide sales rep at Xerox, offers executive and sales coaching for business success, keynote speeches on state-of-the-art selling and closing skills, and workshops. Her book Got Sales? The Complete Guide to Today's Proven Methods for Selling Services, nominated for the Axiom Business Book Award as the best sales book of the year, is the one guidebook highlighting all the recent research and data on what's working now in contemporary selling. More information is available at http://www.YouCanSell.com.
###