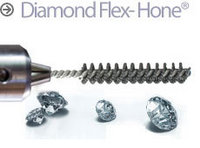 Typical applications for the Diamond Flex-Hone include carbide wear parts, guide and drill bushings, ceramic cylinders, heat treated steel, high nickel stainless steel, MMX aluminum alloys, chromed and plated bores, aerospace components and medical parts
Los Angeles, CA (PRWEB) March 3, 2010
For Canadian manufacturers it is now possible to achieve exceptionally smooth surface finishing of cylindrical parts composed of hard materials such as ceramics, carbide and hardened tool steel quickly and economically with the new Diamond Flex-Hone® honing tool from Brush Research Technology.
Using exclusive, self-sharpening diamond crystals laminated to the ends of flexible filaments, the Diamond Flex-Hone is a patented ball-style honing tool designed for use in surface finishing of cylinders from 4mm to 20mm in diameter (custom sizes are also available).
Typical applications include carbide wear parts, guide and drill bushings, ceramic cylinders, heat treated steel, high nickel stainless steel, MMX aluminum alloys, chromed and plated bores, aerospace components and medical parts.
This new abrasive technology provides a new standard in surface finishing. It can perform polishing, edge blending and cross-hole deburring of exceptionally hard materials, providing a fast and inexpensive solution to surface finishing operations that were relatively expensive and time consuming in the past.
The Diamond Flex-Hone uses resin bonded diamond crystals that have high friability – a tendency for the crystals to crush and produce self-sharpening edges. The result is a honing tool that is free cutting with a rapid cut-rate that produces an optimal surface finish on hard parts that are normally difficult to finish. A premium coated diamond abrasive aids in heat dissipation and improves bond retention.
In a recent laboratory trial, Brush Research tested the Diamond Flex-Hone to prove that the flexible hone could provide a highly polished surface on carbide wear rings that a manufacturer was having difficulty achieving. Using progressively finer diamond grits the new flexible hone was able produce a near-mirror finish, lowering Ra from 0.7 to 0.05 ¼m.
Based on the widely recognized Flex-Hone abrasive technology that is used for controlled finishing standard surfaces, this diamond-laminated model uses diamond crystal abrasives that "float" during operation, assuring that the tool is self-centering, self-aligning and self-compensating for wear.
In addition to a broad array of ball-style hone models and sizes, Brush Research offers engineering assistance to Canadian customers. At its surface finishing laboratory, the firm analyzes customer parts that require finishing, then selects and tests the tools that will provide the best solution according to customer operating parameters.
Established in 1958, Brush Research Manufacturing has been solving difficult finishing problems with honing tool technology in the sophisticated environments of nuclear energy, aerospace and computer technology as well as industrial applications.
###