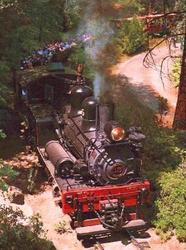 We have a lot of people who take the tour on Saturday, and the when they hear about the Moonlight run they come back that same day and enjoy that too
Fish Camp, CA (Vocus) March 3, 2010
Crews are busy at work getting ready for the spring opening of the Yosemite Mountain Sugar Pine Railroad.
While a little "spring cleaning" is always required to get the rail line ready for the season, there is a more work to be none that normal this year, thanks to a very wet winter. "We have had a lot of snow up there this year," said Max Stauffer, owner of the railroad. "One storm in particular dropped a lot of very wet, and as a result heavy, snow. It brought a lot of trees down over the lines that we are now clearing up."
While it's a lot of work, Stauffer isn't worried about missing the April 1 opening. "We have a great crew who knows what they're doing. We'll be up and running in plenty of time."
Starting it's 44th year of operation, Yosemite Mountain Sugar Pine Railroad is a fixture in the region. Running on a segment of railbed used by the Madera Sugar Pine Lumber Company from 1899 to 1931 as over 500,000 million board feet of lumber were harvested from what is now the Sierra National Forest. Two vintage Shay steam locomotives were restored and now give visitors all the sights, sounds and more of old world, steam-powered transportation.
Shay number 15 was built in 1913 and tips the scales at over 60 tons. The second engine, Shay number 10, was built in 1928 and weighs in at more than 83 tons. It remains the heaviest narrow-guage Shay locomotive currently in operation. Even the passenger cars have history to them, as they are renovated lumber haulers.
"Everywhere you look up here, there is history," Stauffer said. "From the engines that were once used to haul the lumber used in some of the region's most important historical buildings, to the museum that details what life was like in the region in at the turn of the century, people are amazed at the history."
People have a lot of fun as well on the tours. In addition to the regular rides offered each day, Sugar Pine Railroad offers a weekly special Moonlight Tour on Saturday nights. Guests take a special sunset ride on the train, and at the midpoint stop for entertainment. Prior to the run, they are treated to a barbecue dinner grilled right on site. "We have a lot of people who take the tour on Saturday, and the when they hear about the Moonlight run they come back that same day and enjoy that too," said Stauffer.
While the train is the main attraction, there is much more going on as well. A museum has numerous artifacts used in logging and daily life in the mountains. Kids and adults alike are also drawn to the gold panning demonstrations and lessons given on site as well. "Every person who takes a lesson is guaranteed to find some gold," said Stauffer. "If only the people who came here searching for gold all those years ago had the same guarantee."
To learn more about the Yosemite Mountain Sugar Pine Railroad, including schedules, pricing and more, go to their website at http://www.ymsprr.com, or become a fan on Facebook by searching Yosemite Mountain Sugar Pine Railroad.
###