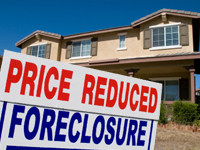 Those that buy in 2010 will be telling their children about it. It's the opportunity of a lifetime.
Santa Barbara, CA (PRWEB) March 4, 2010
RealtyStore, the nation's leading provider of foreclosure listings, released Foreclosure data for the State of Oregon.
RealtyStore.com recorded 1,413 notices of trustee sale (NTS) statewide in Jan of 2010, up 42% from Jan 2009. This is approximately one notice for every 1,000 housing units in Oregon. An auction notice, also known as a Notice of Trustee Sale (NTS) or Notice of Foreclosure Sale (NFS), is filed by the lending institution when a homeowner fails to cure their default. This is the second stage of foreclosure where the lender formally records its intent to sell the property through a public auction.
Washington County saw a 76% rise in notices of trustee sale (NTS) from last year. The county had 260 notices in January compared to 148 a year ago. RealtyStore.com shows 1,988 foreclosures in its database for Washington County while Marion County is a close second with a 69% increase – 144 this January from 85 in January 2009. Clackamas County had a 54% increase, with 236 notices of trustee sale this January from 153 last January.
The RealtyStore.com database continues to swell with Oregon foreclosure listings. A few notable examples include a 3-bedroom, 2-bath home in Washington County with an estimated market value of $295,500 which is listed for sale at $28,255, a 3/2 home in Salem, OR with an estimated market value of $141,000 listed at RealtyStore.com at a $95,000 asking price and a 3/2 home in Oregon City, OR with an estimated value of $198,500 listed with an asking price of $21,900.
Nearly every county in the state has experienced a double-digit increase in NTS filings – the notable exception being Polk County, with only 22 notices of trustee sale this January, down from 29 last January.
According to the Mortgage Bankers Association, nearly 1 in 10 Oregon homeowners was at least one payment behind on their mortgage during the last quarter of 2009.
However, Polk County may be an early indicator that Oregon's foreclosure woes may be nearing bottom. Another telling sign that the bottom may be in sight is the drop in 30-day delinquency rates, which have been decreasing nationwide during the last two quarters of 2009. During this same period, Oregon's 30-day delinquency rate dropped seven basis points. "We are likely seeing the beginning of the end of the unprecedented wave of mortgage delinquencies and foreclosures," said Jay Brinkmann, the Association's chief economist.
With a much lower rate of Jumbo loans and a slightly lower rate of option ARM loans than the rest of the nation, Oregon may be one of the markets to show earliest recovery in 2010. Analysts at RealtyStore.com saw an increase in searches for Oregon properties in January. "We believe that this year will be the year of opportunity," said Tim Chin, founder of RealtyStore.com. "Those that buy in 2010 will be telling their children about it. It's the opportunity of a lifetime."
About RealtyStore.com: Founded in 2005, RealtyStore.com is the fastest growing, most trusted provider of foreclosure listings and information in the nation with over 1 million pre-foreclosure, foreclosure auction, bank-owned, and tax sale property listings. Collected from hundreds of public and private sources, RealtyStore's proprietary database includes extensive property characteristics (including pictures and maps), default and tax information, comparable home values, and neighborhood demographics information. For more information, visit http://www.realtystore.com.
###