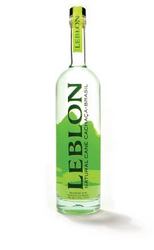 Leblon has qualified as a Rising Star Award winner by achieving double-digit growth in a very difficult economic trading environment
New York (PRWEB) March 3, 2010
Leblon, producer of Brazil's handcrafted Cachaça (pronounced "ka-SHA-sa"), today announced that it has won the "2010 Rising Star Growth Brand" Award given by The Beverage Information Group, a prominent resource for the spirits industry and publisher of the Cheers, Beverage Dynamics and StateWays magazines. This is the first time that a Cachaça, Brazil's national spirit, has ever won this recognition and represents a breakthrough for the category.
The Rising Star Award recognizes a brand that has been established for less than five years and has experienced dramatic growth in recent years; Leblon's annual sales are up 3000 percent since its founding. The award ceremony will take place at the Wine & Spirits Wholesalers of America (WSWA) Annual Convention in April 2010 in Las Vegas, Nevada.
"We are honored to accept this award on behalf of our entire hardworking team," said Steve Luttmann, Founder and President, Leblon. "When we launched Leblon in 2005, few Americans had even heard of Cachaça. By offering an artisanal product, supported by educational seminars, innovative promotions and hand selling, we were able to reach mixologists, restaurateurs, distributors, retailers, the media and, ultimately, the consumer. The response has been nothing short of phenomenal."
"Leblon has qualified as a Rising Star Award winner by achieving double-digit growth in a very difficult economic trading environment," said Eric Schmidt, Research Director, The Beverage Information Group. "Given the current state of the U.S. market, this is an extraordinary accomplishment and augurs well for the brand's future. We are delighted to welcome an artisanal Cachaça into our winner's circle for the first time."
About Leblon Cachaça
Leblon is a handcrafted Cachaça (pronounced ka-SHA-sa) produced at Maison Leblon in Minas Gerais, Brazil's agricultural heartland. Distilled from freshly pressed sugar cane juice, Leblon is then rested in XO Cognac casks and blended to create superior complexity and taste. Leblon is the leading Cachaça brand in high-end establishments and is the premier base spirit of the Caipirinha (pronounced kai-pur-EEN-ya), the national cocktail of Brazil. Available in all 50 U.S. states, Leblon recently won the "2010 Rising Star Growth Brand" Award by the Beverage Information Group. It is a Four-Time Gold Medal Award Winner at the San Francisco World Spirits Competition and garnered "Best in Class" at the Rum Experience International Tasting Competition – London. Leblon is also available in Brazil, France, the U.K., Italy, Ireland, Canada, Thailand, Spain and Portugal. For more information, visit http://www.leblon.com .
Media Contacts:
Hanna Lee or Emily Nordee
Hanna Lee Communications, Inc.
212-527-9969 (office) / 646-752-1526 (cell)
hanna(at)hannaleecommunications(dot)com
emily(at)hannaleecommunications(dot)com
###