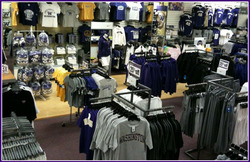 The DawgDen embodies the spirit of innovation that makes the business of sports great
Seattle, WA (PRWEB) March 4, 2010
The Rising Star Awards recognize one retailer from each of the 50 states for their progressive approach to marketing, merchandising and dealing with the customers who walk through their doors.
"The DawgDen embodies the spirit of innovation that makes the business of sports great," said awards presenter Jack Smith, founder of The Sports Authority. "Each of our Rising Stars serves as beacon for those seeking creative ways to connect with customers and stand out in a crowd."
The combined industries of sports licensing and tailgating account for roughly $20 billion each year, and should continue to trend upward in 2010. While most sectors of the retail economy have lagged in recent years, tailgating and sports licensed products have harnessed the passion of sports to carry stores like The DawgDen through these challenging times.
"The key to success in collegiate retailing is to constantly bring exciting products and promotions to the store. We work closely with Nike and other top vendors to bring the latest fashions, onfield apparel, and trends to the sales floor. Coupled with great customer service and a fan-friendly environment, we believe we have the ultimate University of Washington Huskies merchandise team shop!" said Jeff Scoma, owner and avid fan.
The DawgDen is part of JAS Sports, Inc. network of companies including Husky Headquarters, Seattle Team Shop, and SoDo Sports. The stores are locally owned and operated by passionate Seattle Sports Fans!
http://www.seattleteams.com | http://www.thedawgden.com | http://www.sodosports.com | http://www.soundersgear.com | http://www.wazzugear.com
# # #