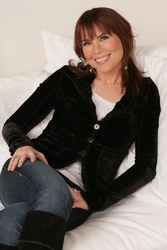 "I firmly believe that every man, woman and child has the right to live their lives in a healthy and safe enviornmanet and to conduct their lives free of abuse." Annie Duke
Los Angeles, CA (PRWEB) March 5, 2010
Please join Annie Duke, Poker Celebrity famous for her poker victories and contributions to promoting the game, and Celebrity Tournament Director Dianna Donofrio-Trigatzi, along with sponsors Toyota Financial Services, TB Wineries, The Price is Right, and Gallery of Dreams, for a fun-filled evening of poker, laughter, an international dinner buffet, and celebration - and victory against domestic violence. Annie will be hosting a Texas Hold-Em Poker Tournament and each hand played will be a strong step towards ending homelessness and domestic violence. All proceeds from this tournament will benefit 1736 Family Crisis Center.
"On Saturday, April 3, 2010, I will be hosting a poker tournament with all proceeds going to 1736 Family Crisis Center. This tournament will take place at the Bicycle Club Casino in Bell Gardens, CA. I invite you to consider joining me as a sponsor, player or spectator and help this nonprofit agency whose work I admire. 1736 Family Crisis Center offers life-saving services to domestic violence victims and abused, homeless youth. I firmly believe that every man, woman and child has the right to live their lives in a healthy and safe enviornment and to conduct their lives without emotional, physical, or sexual abuse or the fear of such abuse," says Annie Duke.
1736 Family Crisis Center operates an emergency youth shelter and domestic violence shelters throughout Los Angeles County. The shelters serve DV victims and their children who are escaping severe abuse. Through the Center's shelters, outpatient clinics, emergency hotline response stations and outreach services, 25,000 abuse victims and children were helped in 2009. 1736 Family Crisis Center relies 100% on grants and donations to provide these much-needed services. All clients of the agency are served completely free of charge. In this uncertain economic climate, the nonprofits are being hit the hardest, and sadly, an unstable economy statistically fuels domestic violence across the country. Please help out by joining in to play poker on April 3rd. With each hand played, you can be a part of the progress of peace as well as to help to end domestic violence.
Annie's Texas Hold-Em Poker Tournament will be held on April 3rd at 2:30pm at the Bicycle Club Casino. The buy-in is $350.00 with $100.00 re-buys available for the first hour. 1st price is $10,000, 2nd prize is a private poker lesson with Annie Duke. The final 10 players will receive prizes. Buy-ins or donations can be sent to 1736 Familiy Crisis Center, 2116 Arilington Ave. Suite 200, Los Angeles, CA 90018 - Attn: Poker Tournament. There is an early-bird discount available by calling Tobi Quintiliani, Senior Director, (310) 543-9900 ext. 210. Buy-ins or spectator admission can be purchased by accessing 1736 FCC's website http://www.1736fcc.org or the Bicycle Club Casino's website http://www.thebike.com/tournaments.
Please contact Tobi Quintiliani, Senior Director, for more information on the buy-ins or sponsorship opportunities (310) 543-9900 ext. 210. http://www.1736fcc.org
###