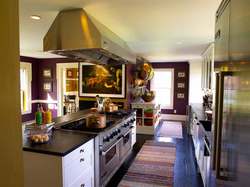 The Pro Perspectives section looks more closely at the idea of the 'gourmet' kitchen from the practicing professional's point of view
Chicago, IL (PRWEB) March 3, 2010
Whether you're a devout foodie, the Martha Stewart of dinner parties, or a parent doing your best to whip up healthy meals for the family, getting some tips from professional chefs is never a bad thing. So Kitchens.com enrolled the help of professional chefs and designers to share secrets about designing great kitchens and filling them with useful appliances and cooking tools. The result is a new section on Kitchens.com called Pro Perspectives.
"The content on Kitchens.com has always addressed functionality as an integral part of kitchen design, but the Pro Perspectives section looks more closely at the idea of the 'gourmet' kitchen from the practicing professional's point of view," said Kitchens.com editor-in-chief Kimberly Sweet.
Pro Perspective features advice from culinary wizards like chef Suvir Saran of upscale Manhattan Indian eatery Dévi; Austin, Texas chef James Holmes whose Olivia restaurant was named a "Top 10 Best New Restaurants in America" by Bon Appétit magazine in 2009; and Dallas chef Scott Gottlich whose Bijoux restaurant was also named a "Top 10 Best New Restaurants in America" by Bon Appétit magazine in 2007.
This new section on Kitchens.com has three parts to it:

Cooks' Kitchen Remodels: Two chefs and one kitchen designer share their recent home kitchen remodels, with their stories told through a series of before and after photos.
The Essential Chef's Kitchen: Four chefs and two designers discuss the essential elements—countertop surfaces, task lighting, workhorse sinks, etc.—of a true cook's kitchen at home.
Tools of the Trade: A panel of five chefs participate in a Q&A about kitchen appliances and cooking tools. They answer questions like "what's the most overrated kitchen tool?" and whether microwaves are "shunned or saviors."
"The entire section will help serious and casual cooks get ideas about what products and design ideas will make their kitchen more functional and useful as well as more beautiful," noted Sweet. "If they can't afford everything they want in their dream kitchen, it will help guide their decisions on where to spend the dollars they do have."
Kitchens.com (http://www.kitchens.com) is a comprehensive resource for homeowners seeking information and inspiration for their ideal kitchen. This independent online publication features photography, design trends and ideas, new product updates, product buying guides, and handy how—to information on planning and budgeting—all in a user-friendly format that puts knowledge at consumers' fingertips.
Founded in 1996, Kitchens.com is based in Chicago.
###