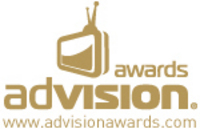 Rising above the Tide: Advertising and the New Economic Reality
New York, NY (Vocus) March 4, 2010
Global Advertising Strategies, an international, full-service marketing, advertising and interactive agency, will host the 4th Annual AdVision Awards on March 4, 2010 in New York City, recognizing the best in international Russian-language advertising. The Awards bring together advertising and marketing industry leaders from the U.S., Russia, Ukraine, Kazakhstan, Armenia, Israel and Canada to compete for Best Russian-Language TV and Radio commercials, Print Ads, Media, Interactive, and Marketing/Promotional Services.
This year the AdVision Awards received a record amount of international partner support, from companies including RBC, DIRECTV, Gazprom-Media, RTVi, and Russkiy Mir, among others. Over 300 creative works were submitted for consideration from competing agencies including BBDO, Leo Burnett, Saatchi & Saatchi, and Tviga.
In conjunction with the AdVision Awards, Global Advertising Strategies will also host a series of roundtable panels featuring some of the media and advertising industries' top talent and thought leaders. The roundtables present a unique opportunity for international media and advertising insiders to share ideas and discuss critical industry topics, as well as global trends and challenges.
"Given the ever-changing global advertising and media landscape, it's imperative for media professionals and brand owners to understand how to best connect with their customers, and to do so in such a way that takes into account the unique multi-culturalism of their audience," said Givi Topchishvili, President and CEO of Global Advertising Strategies.
The first panel, titled "Rising above the Tide: Advertising and the New Economic Reality," will examine how the recent economic downturn has changed the landscape of international media and advertising, and the ways in which innovative brands and companies have embraced the challenge. Speakers will include Givi Topchishvili, CEO of Global Advertising Strategies; Gray Hirshfield, Executive Producer for Grey Vision; Robert Shiver, Chairman and CEO of The Shiver Group; Curt Thornton, CEO of Provision Interactive Technologies; and James Lancelot, Director of Professional Services for Invitemedia. The discussion will be moderated by Sandy Kornberg, Executive Committee and Board member of the International Advertising Association (IAA), and former Managing Director with McCann-Erickson and Interpublic, based in Hong Kong, with North-Asia regional responsibilities.
The second panel, "Going Viral, Going Global: Harnessing Social Media," will address the rapidly developing role of social media in global advertising today. Speakers will include Arman Rousta, CEO of BlueLiner; Scott Cherkin, VP of Product and Business Development for the Travel Ad Network; and Ed Spiegel, Founder and CEO of RentMineOnline.com, Boris Eremin, IAA Russian Chapter President, Craig Kanalley, Traffic & Trends Editor for the Huffington Post, will serve as moderator.
The AdVision Roundtable Series will take place on Friday, March 5, 2010 at the Andaz Hotel, located at 75 Wall Street, from 12:00-5:00pm. Visit http://www.AdVisionAwards.com for more information.
About Global:
Global Advertising Strategies is a full-service marketing, advertising and interactive agency with international reach. Our capabilities and experience in catering to the diverse cultural and social identities of consumers worldwide is what sets us apart. By functioning as a gateway into specifically selected markets around the globe, Global's analysis, tools and experience help it to deliver advertising with maximum effectiveness and efficiency. For more information on Global and its capabilities, please visit http://www.Global-NY.com.
Media Contact:
Anna Treyer-Simakova
ASimakova (at) global-ny (dot) com
(212) 964-0030 x130
###