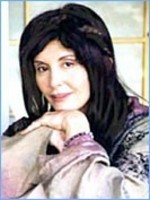 "Save my daughter and she will always serve you."
Santa Monica, CA (PRWEB) March 5, 2010
International Women's Day is a world wide event that celebrates women's achievements and aims to promote the equal participation of women at a national and international level, with special attention to the crucial role women play in promoting peace. Cantor Estherleon Schwartz, "spiritual songbird" and member of the Board of Directors of the United Nations Association, USA Pacific-Los Angeles Chapter, has been asked to give the invocation at the UNA-Los Angeles International Women's Day Event.
Estherleon Schwartz will open the International Women's Day event with a special invocation, which will be followed by special activities. The event will run from 6:30 – 9:15 pm and will feature a film screening of "Walk to Beautiful," an award-winning documentary about women suffering from childbirth complications and their journey to recovery, followed by a discussion and question and answer session. The event is to be held at the Messob Ethiopian Restaurant, which has been described as the "Best Ethiopian Restaurant in Little Ethiopia" by AOL's Citysearch. Messob Ethiopian is located on 1041 South Fairfax Avenue in the Little Ethiopia section of Los Angeles.
Holocaust survivor and cantor, Estherleon Schwartz, began her musical and spiritual journey at the age of 4 when her father threw her over a barbwire fence on the Swiss border and asked God to "Save my daughter and she will always serve you." After her miraculous survival, Estherleon Schwartz immigrated to the United States at the age of seven and began to fulfill her father's prayers.
For many years since then, visionary Cantor Estherleon has strived to bring all faiths and cultures together for a deeper understanding of each other. As CNN News, put it, "Against all odds," she founded three inclusive spiritual reading rooms for people of all faiths and Beth Shirah, which literally means "House of Song." She has been a welcomed speaker at the Buddhist Hsi Lai Temple, Baha'i Faith Centers, the Braille Institute, and other healing centers. In her spare time, she volunteers as a Para-Chaplain in Los Angeles hospitals and works tirelessly to end childhood poverty through her dedication to Voices of Hope. Her autobiographical novel, Tears of Stone and my deal with God, chronicles her moving experiences as a child survivor of the Holocaust and her unique spiritual journey.
###