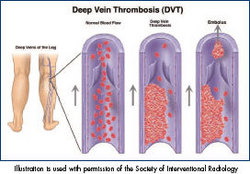 Every year, more people die from preventable blood clots than from breast cancer, AIDS and traffic accidents combined
Denver, CO (Vocus) March 4, 2010
More than 17,000 Americans have already died in 2010 from blood clots in the lungs. The Vascular Disease Foundation's Venous Disease Coalition, reminds us of this sobering fact on its homepage with a new counting widget at http://www.venousdiseasecoalition.org, and urges Americans to learn the risks of venous blood clots to help prevent these deaths.
The condition, called deep vein thrombosis (DVT), occurs when a blood clot forms in the deep veins, usually of the leg. DVT can be dangerous in two ways. First, DVT can be fatal if a blood clot breaks free and travels through the heart and into the lungs. This complication, called pulmonary embolism (PE), causes between 100,000 and 300,000 deaths per year in the United States. Second, because blood clots can permanently damage the veins, as many as half of DVT survivors can experience long-term leg pain, heaviness and swelling that can progress to difficulty walking, changes in skin color and open leg sores (known as ulcers). This condition, called post-thrombotic syndrome (PTS) or "chronic venous insufficiency", can significantly impair quality of life.
"Every year, more people die from preventable blood clots than from breast cancer, AIDS and traffic accidents combined," said Dr. Samuel Goldhaber, Chairman of the Venous Disease Coalition. "It is so important to raise awareness about DVT and PE because although blood clots are common, few Americans have sufficient knowledge about blood clots and how to prevent them. By showing the number of Americans that die each day, we want to create a groundswell that can save lives through knowledge and action."
DVT and PE should be considered emergencies that require immediate care if any of the following symptoms are present:
Symptoms of Possible DVT (http://www.venousdiseasecoalition.org/diseaseinfo/dvt/symptoms.php):
Recent swelling of one leg
Unexplained pain or tenderness of one leg
Skin color changes or is hot to the touch
Symptoms of Possible PE (http://www.venousdiseasecoalition.org/diseaseinfo/pe/symptoms.php):
Recent or sudden shortness of breath
Sharp chest pain, especially when breathing in
Coughing up blood or sudden collapse
The Venous Disease Coalition has multiple educational resources on its Web site, including peer-reviewed and science based education information, educational pamphlets, and downloadable educational materials for both the public and health care professionals. The Venous Disease Coalition also has free print and Web advertisements available on its Web site for use in any other organization's publications or online. These materials may be found at http://www.venousdiseasecoalition.org/resources/dvtads
About the Vascular Disease Foundation and the Venous Disease Collation
The Vascular Disease Foundation is a national, nonprofit, public education organization dedicated to fighting vascular disease and improving the vascular health of Americans by increasing awareness of the prevention, diagnosis, and management of vascular disease. It has been a leader in disease awareness and advocacy through its Peripheral Arterial Disease Coalition and Venous Disease Coalition. For more information, visit http://www.vdf.org or call 888-VDF-4INFO (888.833.4463).
The Venous Disease Coalition (VDC) (http://www.venousdiseasecoalition.org) promotes the urgent need to make deep vein thrombosis and pulmonary embolism a major U.S. public health priority. The VDC is an alliance of leading health professional societies and patient advocacy groups that have united around a common goal: to improve the survival rates and quality of life for individuals with, or at risk for, venous disease. The VDC is a program of the Vascular Disease Foundation.
###