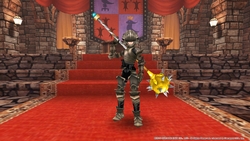 Try the Fantasy Earth Zero Beta; receive an exclusive weapon!
Los Angeles (PRWEB) March 3, 2010
Gamepot (USA), Inc., the U.S. publishing division of Japanese gaming behemoth Gamepot, Inc., is pleased to announce the FANTASY EARTH ZERO™ Open Beta on March 3rd, 2010. The Open Beta marks the beginning of our countdown to Day Zero, the launch of FANTASY EARTH ZERO.
Each player who joins the fray and participates in a war between March 3rd and March 10th, 2010 will receive a code for an exclusive, limited edition weapon when the game launches on Day Zero.
To register for the Beta, please visit: http://fez.gamepotusa.com
"This is part of our continuing initiative to reward our players." said Thomas Lee, Senior Director of Business Development. "Ideally we'd like you to speak softly and carry a large golden axe."
In addition to the exclusive beta items, Gamepot USA is hosting many events as they countdown to Day Zero. For the latest updates on Fantasy Earth Zero events, please visit http://fez.gamepotusa.com.
FANTASY EARTH ZERO, licensed by SQUARE ENIX Co., Ltd., features three distinct classes to choose from, five unique kingdoms vying for a player's allegiance, immersive quests, a stunning soundtrack by Hitoshi Sakimoto (FINAL FANTASY TACTICS®, FINAL FANTASY® XII), the pulse-pounding excitement of 50 vs. 50 PvP and a nearly endless array of character customization options, making it one of the most robust and anticipated free-to-play MMO games of 2010.
About Gamepot (USA), Inc.
Gamepot (USA), Inc. is the U.S. publishing division of Gamepot, Inc., one of Japan's top gaming firms. Opening its Los Angeles office in August 2008, Gamepot (USA), Inc. is dedicated to providing the best games free of charge, and invites all players to "Taste the fun". Gamepot has a full course meal of fun, fulfilling games slated for North America and beyond. For more information, please visit http://www.gamepotusa.com
About Square Enix
SQUARE ENIX CO., LTD. (Square Enix), a wholly owned subsidiary of Square Enix Holdings Co., Ltd., with headquarters in Tokyo, Japan, develops, publishes and distributes entertainment content including interactive entertainment software and publications in Asia, North America and Europe. Square Enix brings two of Japan's best-selling franchises - FINAL FANTASY, which has sold over 92 million units worldwide, and DRAGON QUEST, which has sold over 53 million units worldwide - under one roof. Square Enix is one of the most influential providers of digital entertainment content in the world and continues to push the boundaries of creativity and innovation.
FANTASY EARTH and FANTASY EARTH ZERO are registered trademarks or trademarks of SQUARE ENIX CO., LTD. in the United States and/or other countries. SQUARE ENIX, FINAL FANTASY and FINAL FANTASY TACTICS are registered trademarks or trademarks of SQUARE ENIX HOLDINGS CO., LTD. in the United States and/or other countries.
For more information on FANTASY EARTH ZERO, please contact Margeaux Sullivan @ press(at)gamepotusa(dot)com
###