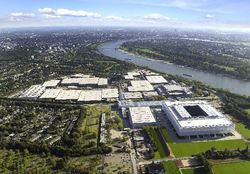 Golden Mask for Make-Up Artists
New York, NY (Vocus) March 5, 2010
Düsseldorf, Germany 25 Years of Beauty International DüsseldorfFor 25 years, BEAUTY INTERNATIONAL DÜSSELDORF - the No. 1 Trade Fair for Cosmetics, Nail and Foot Professionals - has set the standard for cosmetics trade fairs and successfully promoted beauty. Held from March 26 - 28, 2010 at the fairgrounds in Düsseldorf, Germany, the event will again be the ideal platform for professionals involved in the beauty sector.
BEAUTY INTERNATIONAL DÜSSELDORF is a trade only event and over 50,000 trade visitors use this leading cosmetics trade fair every year to gather information on the latest trends, place orders and improve their skills. The 1,200 exhibitors and brands guarantee a perfect market overview with the clearly-structured segments of cosmetics, manicure, pedicure and wellness. The exhibits will be complemented by a specialist program consisting of nine workshops as well as 110 programs at the individual sector meeting places and the Meeting Point. Another highlight will be the German and International Make-up and Nail Championships.
Visitors mainly interested in cosmetics will be offered an array of new techniques and products from over 600 suppliers and brands – from sensitive skin care, innovative skin cleansing products, natural cosmetics and make-up trend products to new treatment couches and technical equipment. The central forum for the cosmetic segment will be the Meeting Point in Hall 10 where the panel discussions and the German and International Make-Up Championships will take place. The theme of next year's German Make-Up Championship on Friday, March 26, 2010 will be "Dress Up" while at the International Make-Up Championship on Saturday, March 27, 2010, participants from 15 countries have to create make-up for the "Red Carpet" theme. Also on Saturday, the "Golden Mask for Make-Up Artists" will be presented.
In the manicure segment in Halls 7 and 9, around 170 international exhibitors and brands will showcase new hand and nail care trends and techniques such as gel nails, airbrush and nail art, care for natural nails and UV lamps for synthetic nails. The Meeting Point in Hall 9 will feature the specialist program as well as the National Nail Championship (Friday, March 26, 2010) and the International Nail Championship (gel category on Saturday, March 27, 2010; powder liquid category on Sunday, March 28, 2010).
About 115 suppliers in the foot segment of the trade fair will present a wide spectrum of foot care products ranging from foam creams, nail sprays and pedicure appliances to lamps, hygiene products and disinfection equipment. The specialist lectures at the Meeting Point in Hall 11 will address treatment options for hyperkeratosis and paronychia.
At the Wellness segment of BEAUTY INTERNATIONAL DÜSSELDORF, 95 exhibitors and brands will show various spa and wellness applications. International spa and massage trends will be presented at the Meeting Point in Hall 11, while individual advice for spa operators on both architectural and commercial aspects will be offered in the Spa Business Lounge. "Green Spa" will be the topic of the Wellness Special Show, organized in cooperation with the German Wellness Association. The show will demonstrate how eco-friendliness and sustainability can be practically implemented at cosmetic institutes and spas.
Düsseldorf's Business Travel Service offers amazing deals for registered BEAUTYINTERNATIONAL DÜSSELDORF 2010 attendees on hotels, travel, and food and beverage: Hotel package prices start at 99 Euro per night and include: 1 night at a 3-star hotel (double occupancy), breakfast, 2 entrance passes for BEAUTY, round-trip transfer between hotel and fairgrounds, city information package and map. Dinner packages start at Euro 12.50 for a dinner (one main course plus one glass of Alt beer) at Düsseldorf's famous brewery "Zum Schluessel" in the historic Old Town.
For more information on individual travel arrangements including air fare, contact the Düsseldorf travel professionals at Düsseldorf Marketing & Tourismus GmbH, phone +49 (0)211/1 72 02-839, fax +49 (0)211/1 72 02-32 21, email: business@duesseldorf-tourismus.de or visit http://business.duesseldorf-tourismus.de/index.php?id=4351&L=1. Information about these travel deals is only available at the contact information above.
Visitors have to register in advance and provide trade visitor credentials in order to purchase an entrance pass. For further information on visiting or exhibiting at BEAUTY INTERNATIONAL DÜSSELDORF 2010, contact Messe Düsseldorf North America, 150 North Michigan Avenue, Suite 2920, Chicago, IL 60601. phone: (312) 781-5180; fax: (312) 781-5188; email: info(at)mdna(dot)com or visit http://www.mdna.com; blog: http://blog.mdna.com; Twitter: http://twitter.com/mdnachicago.
###