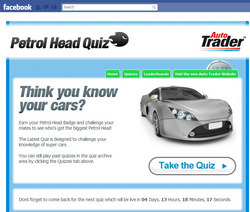 Are You Britain's Biggest Petrol Head?
(PRWEB) March 6, 2010
Auto Trader has begun the search for the UKs biggest 'Petrol Head' by launching a new Facebook Application designed to test even the most fanatical of enthusiasts.
The Auto Trader Petrol Heads Quiz consists of 10 questions per section, with a new section being released every week. The aim is to get the highest possible score for each section (10 in total) and then the scores will accumulate each week.
The questions range from the inner workings of a vehicle to cars used in TV and film, even some on road safety. The aim is to beat your friends and be crowned 'The Biggest Petrol Head'.
The quiz can be accessed from Facebook or via the Petrol Heads micro-site
You can take each quiz as many times as you want and take your best score forward each week. After the release of a new set of questions, previous sections can be accessed by selecting the 'quizzes' tab.
Are you Britain's biggest Petrol Head? Let's find out...
###