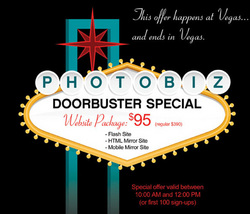 Greensboro, NC (PRWEB) March 5, 2010
As in past years, the WPPI 2010 Convention and Trade Show will be a reunion of photographers from around the world, headlined this year by a lineup of industry renowned Platform speakers. The WPPI trade show will feature hundreds of exhibitors and thousands of new products of which PhotoBiz will be introducing more than ever before.
Due to the enthusiastic response PhotoBiz.com will once again offer the "Door Buster Special" at the Las Vegas WPPI trade show. This offer is only available to the visitors of booth #1212 at the show. A complete website package consists of a Flash site, HTML mirror site and a Mobile mirror site. This special is valid between 10:00 A.M. and 12:00 P.M. or to the first 100 sign-ups. This offer happens in Vegas and ends in Vegas.
From the inception of the company PhotoBiz.com has been a industry leading developer of website templates for photographers. We will be introducing two new Full Screen Templates, we call "Pamplona", and "Charleston". Both will be full screen templates with color shifting capability; can have custom backgrounds and both utilize cloud computing technology.
PhotoBiz will introduce a brand new mobile website that will customize our customer's websites to fit the new iPhones. As iPhone's are becoming more popular worldwide, Photobiz has accommodated our products to fit growing business needs. The new mobile websites have low set up fees and no monthly fees. They build and maintain themselves as the main PhotoBiz Flash website is built and maintained.
Client Viewing is a powerful new proofing tool that has been developed to complement and expand our online proofing and shopping cart features. This high impact presentation system is extremely customizable with multi lingual, complete color customization, font styles & sizes, transitions styles & speeds, AND MUCH MORE. This has the potential to be one of our customer's favorite selling tools.
The introduction of the Photobiz.com Smart Light Box has been an unqualified success. Several of our customers have added a Chat function that allows their customers to chat with them while they are on their website. With many embeddable chat features available online, their customers can initiate a chat directly on a website. Using any smart phone, our customers can be mobile and keep in contact with their prospective clients.
Passionate Support : Guaranteed Satisfaction.
For more information about PhotoBiz.com, or to get started using the new products and features, visit us at http://www.PhotoBiz.com or on FaceBook at http://www.photobizfanclub.com.
# # #