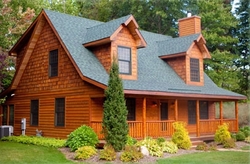 "The beauty of Kingfisher Cove is that our buyers are getting exceptional quality, one of the most sought after locations in America, and the chance to invest in something tangible---real property."
Chicago, IL (PRWEB) March 5, 2010
The economy is making a comeback and Kingfisher cabins in Saugatuck, Michigan offer affordable, rustic luxury near the shores of Lake Michigan.
Real Estate Investment Advisor Pete Colvin of Sperry Van Ness feels strongly that NOW is the time to combine the dream of a second home with an appreciating investment that isn't subject to the whims of Wall Street.
Colvin's wife, cottage community designer Deb Colvin, has developed a stunning, affordable, lakefront luxury log cabin style community near the shores of Lake Michigan in Saugatuck, Michigan and the response has been outstanding.
Kingfisher Cove is nestled in the woods on 17 acres of pristine, shorefront property and boasts 29 beautifully appointed cedar cabins just two minutes from downtown Saugatuck that guarantee year round family fun and only hours from Chicago, Detroit, and several other major metropolitan areas.
With record low interest rates and cabin prices between $299,900 and $369,900, the dream of owning a second home is more real than ever. "Everyone dreams of a family getaway that they will actually use and enjoy year round. The beauty of Kingfisher Cove is that our buyers are getting exceptional quality, one of the most sought after locations in America, and the chance to invest in something tangible---real property", said Colvin.
The Kingfisher homes feature state-of-the-art appliances, gorgeous cedar exteriors, soaring stone fireplaces and have been built with sustainability, energy efficiency and the environment in mind. "With the economy on the mend, folks have grown weary of the stay-at-home-vacations and are looking for ways to have weekend and vacation fun without breaking the bank. Many of our buyers have fallen in love with the land, the cabins, and the fact that they are investing in something extremely affordable that they can enjoy a lot more than those shares of stock sitting in the drawer or cd's at 2%.", added Colvin. To date, 23 of the 29 homes have been purchased and Colvin doesn't expect the rest of their inventory to last long.
Along with their dream vacation home, cabin owners share lakefront, a pristine pool and a fully-managed, carefree environment. They can lower their carrying costs by renting their home if they desire as the cabins are the "hottest rentals in SW Michigan". Nearby, owners and their guests can venture into downtown Saugatuck ("the Cape Cod of the Midwest" according to "Money Magazine" Feb 2003), and enjoy art, music, shopping, dining, golfing, biking, and numerous year around activities.
###