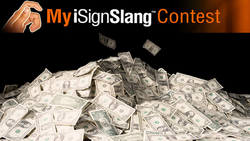 Can I buy you a drink?
Minneapolis, MN (PRWEB) March 5, 2010
iSignSlang (iSS) has launched a new communication technique aimed at empowering teens and college students to communicate with each other without words – and even to profit from it.
"Using hand gestures created by iSS, 'iSignSlangers' communicate with their peers in bars, at parties, while driving, etc – getting across a myriad of messages that would be uncomfortable, or impossible, to communicate with words," explained Shannon Taggart, founder of iSignSlang. "We've created a video library of signs to start with, but we're really looking for teens and college students to really make this their own, which is why we're launching the contest at the same time we're introducing the signs."
Would-be iSignSlangers can download the app from the iSS website (isignslang.com), or on their mobile devices by visiting the requisite app stores. iSS supports iPhone, iPod Touch, Palm Pre, and Google Android.
iSignSlangers can communicate everything from "Can I buy you a drink?" and "Are you married?" to "Let's party!" and "Nice ass!" And now, with the MyiSignSlang Contest, iSigners can create their own signs and win $2,000.00 in cash!
To enter the contest, contestants must create a sign and then create a video of using the sign in action. The video must be entertaining (viral), have a unique sign, and be submitted to isignslang.com The winner will be presented a check in person, which will be broadcast live on Ustream.com, as soon as a total of 20,000 iSS apps are downloaded, or by May 21, 2010, whichever comes first!
About iSignSlang
iSignSlang is home to the world's most revolutionary form of non-verbal communication. The phenomena is popping up everywhere, creating "iSignSlangers" across the country and around the world. To join the revolution, visit iSignSlang.com.
# # #