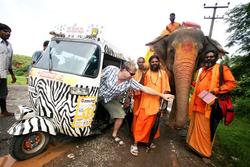 Is the world ready for amphibious rickshaw?' is a good question. 'Does the world have any use for amphibious rickshaw? might be ever better
Chennai, India (PRWeb UK) March 6, 2010
The Malabar Rampage is the latest route in the Rickshaw Challenge series, stretching a gruelling 2000 kilometres (roughly 1200 miles) through the majesty and the mystery of southern India's Dravidian states. Now in its 5th year, the Rickshaw Challenge series has become synonymous with the spirit of adventure and its completely novel take on how to 'win' and become 'The King of the Rickshawallas'.
The Malabar Rampage is not an event for unthinking petrolheads or speed freaks - the fun loving, madcap ethos behind the Rampage has attracted teams of adventurers from around the world. Discouraging speed or point-to-point racing, the Malabar Rampage will have a point system based on completing weird and wonderful challenges, feats of daring and imagination, and helping underprivileged schools and villages along the way.
To make sure the inaugural Malabar Rampage kicks off in true style, and likely goes down in history, the competitors this summer will face a challenge never before attempted : to build the world's first amphibious rickshaw and pilot it across a river. 'Is the world ready for amphibious rickshaw?' is a good question. 'Does the world have any use for amphibious rickshaw?' might be ever better – but what is for sure is that the imagination and the guile of the Rampage teams will produce vehicles the likes of which have never been seen.
Some of the tests facing the teams will be old favourites from prior Rickshaw Challenges – such as testing the skills of the drivers at reversing vehicles that are barely made to go forward in the first place, drag racing against sacred cows, and decorating their rickshaws in the most outrageously pimp fashion possible. Ever seen a giant mouse with a two-stroke engine weave between potholes through the most stunning countryside known to man? The participants of the Rickshaw Challenge have, and when the Malabar rampage kicks off on April 2nd we will doubtless see a whole new level of crazy. Places are open for teams to register to participate, and as the Rickshaw Challenge series has already contributed more that €50,000 directly to deprived local schools there are still chances to become part of this astounding adventure with a humanitarian conscience.
###