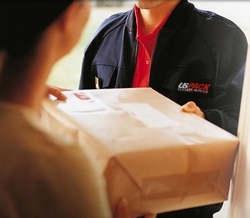 For our courier service to partake in something so much bigger than us is quite the experience.
New York, NY (PRWEB) March 5, 2010
Though the tragedy of September 11th is behind us, preserving its memory is a continuing process. As a sanctioned courier of World Trade Center artifacts, US Pack is helping to keep that memory alive through efficient, secure delivery of steel remnants and other pieces for memorial display. 'This is an incredible honor, and unlike any other delivery we've made,' Mark Glazman, Vice President of US Pack, says. 'It really transcends business. It's an immensely rewarding public service.'
For the last several months, US Pack has delivered WTC artifacts on behalf of the Port Authority of New York and New Jersey, which decides where and how these pieces are to be displayed. Among the selected organizations are TSA Wichita (Kansas), Grand Junction Downtown Development Authority (Colorado), and the Atomic Testing Museum in Las Vegas, Nevada. The honor of being entrusted with the memory of 9/11 can't be overstated. Dawn Barlow, Director of Communications & Development at the Atomic Testing Museum says, 'I've been so profoundly moved by these pieces. The response has been just overwhelming in our community.'
On Saturday, February 27th the Atomic Testing Museum, which documents the history of nuclear testing at the Nevada Test Site, celebrated its 5th anniversary with the dedication of two WTC pieces in honor of the victims of September 11th. The event was highlighted by guest speakers Oscar Goodman, Mayor of Las Vegas, and Sgt. Maj. Tony Rose, survivor of the Pentagon attack, and appearances by Senator Harry Reid and Wayne Newton. Barlow thanks US Pack for playing an integral role in making the event possible: 'They've been really good to us, delivering everything on an expedited basis. I think they understood as much as any of us that this was not your ordinary delivery.'
US Pack employees have been understandably humbled by the significance of these deliveries. 'For our courier service to partake in something so much bigger than us is quite the experience,' says Fran Marrone, Director of Sales. 'These organizations and their communities are going to treasure these artifacts, hopefully for generations.' As the preservation of the memory of September 11th continues, US Pack is proud to serve as a courier for World Trade Center artifacts. US Pack recognizes its unique role in helping to remember and honor such a pivotal, and tragic, moment in American history.
US Pack is a premier New York City courier service. A family owned and operated business founded by Peter Glazman in 1986, US Pack serves a wide variety of clients, including medical centers, legal firms, financial institutions, and technology enterprises. US Pack provides same-day delivery courier and routed delivery services for the New York metropolitan area and beyond, and is committed to the highest standards of security and efficiency.
###