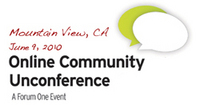 I love unconferences. People are more open, talk to each other, share their knowledge freely among the group, and there is always something new to learn from our peers. It's simply the way all conferences should be.
San Francisco, CA (PRWEB) March 5, 2010
Forum One, a strategy and research group specializing in online communities and social media, announced their fifth annual Online Community Unconference, which takes place in Mountain View, California on Wednesday, June 9, 2010. The event is an open space meeting for online community and social media practitioners, managers, developers, business people, tool providers and investors to discuss experiences and strategies in the development and growth of online communities and social media.
With over 300 attendees anticipated to attend the event, the Online Community Unconference is slated to be the largest west coast, Unconference-style gathering of social media and community practitioners this year. "Our community and social media events are attended by the most qualified network of social media and online community practitioners who share their experiences, challenges and successes," says Bill Johnston, chief community officer for Forum One Networks. "The Online Community Unconference is the true gathering of the community and social media tribes."
The Online Community Unconference offers online community and social media professionals with a very low-cost, highly-engaging opportunity to network, share ideas, concepts, challenges and successes, and learn from their peers who are in the field. An attendee from last year's Online Community Unconference shares what she liked best about the event, "In a time where I'm more conscious of my travel and conference budget, this event was such a terrific investment. I met outstanding new peers, solidified online relationships, and took home so much new knowledge. I would highly recommend this event to anyone who is interested in online communities as well as companies considering the importance of building online communities."
While the topics are determined on the day of the event by participants, some likely topics include: twitter for business; holistic social media strategies; social media ecosystems; community growth strategies; community metrics and ROI; community business models and monetization; emerging technologies.
With attendees from leading companies including; Google, NetApp, Flickr, Autodesk, Rosetta Stone, Symantec, JustAnswer Corp, SEGA, Care2.com, Genomera, Jigsaw, and many more, the Unconference is sure to deliver many thought provoking breakout sessions and offer unmatched networking opportunities.
To register for the Online Community Unconference, or for more information, please go to:
http://ocu2010-pr1.eventbrite.com.
There are several sponsorship slots still available. If interested, please contact Chloe Caviness: ccavniess[at]forumone[dot]com.
About Forum One Networks
Forum One Networks is a division of Forum One Communications, a web strategy and development group based in Alexandria, Virginia, with offices in the California Bay Area. Forum One Networks produces events, conducts research, and provides networking and strategic consulting for online community and social media professionals.
# # #