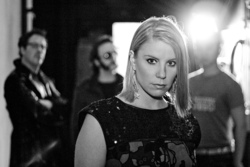 "This is an excellent way for us to find new fans and connect with them in a fun way" says Irish band drummer and manager, Mark O'Toole
New York, NY (PRWEB) March 5, 2010
NYC indie rockers Audio Fiction become one of the first bands to join Harmonix and MTV Games' just released Rock Band Network Music Store for the Xbox 360(r) Rock Band that allows bands and labels to author their own songs.
Audio Fiction is an Horatio Alger story set against the backdrop of web 2.0. First there was a revolution in music distribution that leveled the playing field for large, small and no label bands. Bye, bye gate keeper. Then there was the work, courage and determination.
The band produced their eponymous debut album, created their own label to market it, used social networking sites to inform and inspire a growing cadre of fans, and funded and directed their first music video. They used Harmonix tools to author their track 'Race the Hourglass' for the just launched Rock Band Network.
Then the fruition - peer testing results and posts on gaming blogs have been overwhelmingly positive. Audio Fiction's bass player, Darren Korb, an expert Rock Band player himself, became a technical wizard and authored the band's track by putting it into a game-compatible file format, had it peer tested and approved in the debut launch of Rock Band Network that opened Thursday.
Audio Fiction now joins bands such as Of Montreal, Flogging Molly, The Shins, Smashing Pumpkins, Jonathan Coulton, Stroke 9, Furly and The Hold Steady as Rock Band Network mainstays.
""This is an excellent way for us to find new fans and connect with them in a fun way. It's similar to how iTunes leveled the playing field for independent bands like us" " says Irish band drummer and manager, Mark O'Toole. "Having a great tricky guitar solo is great for the game too" he added. To download the song 'Race the Hourglass', all you need is an Xbox, an internet connection, an Xbox live membership and Rock Band 2.
Audio Fiction's self titled debut album is available now on iTunes, Cdbaby.com, Amazon, and Lala. 'A star crossed hybrid of Garbage and No Doubt'
The music video for Audio Fiction's first single, Way Out, is @
http://www.youtube.com/watch?v=odU-KhCIbgA
http://www.myspace.com/audiofictionband
Audio Fiction will co-headline The Mercury Lounge in NYC this St. Patrick's Day (Wed, March 17th)
# # #