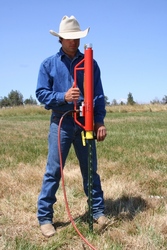 Prineville, OR (PRWEB) March 8, 2010
Rohrer Manufacturing began as a practical idea by a Central Oregon rancher to ease the strenuous chore of driving posts for property, ranching and agricultural fences. Today, it's a million dollar business that just landed international distribution with Peerless Products, the Australian leader in the production and distribution of high quality air compressor, welding, and drilling equipment for Australia's agricultural industry.
Rohrer Manufacturing's patented, pneumatic air-powered fence post drivers eliminate the back breaking job of hand driving posts. The Man Saver Post Driver provides an alternative to larger, more expensive, heavy equipment, saving time and increasing efficiencies of laying fences for ranch/farm, construction and agricultural industries.
In Australia, the agricultural and mining sectors account for 10 percent of GDP (Gross Domestic Product) and are 57 percent of the nation's exports. Peerless Products had been interested in a "star picket driver," but had found others to be expensive and difficult to maneuver on-site. It discovered Rohrer's products through an online search.
"Peerless has been manufacturing air compressors for 50 years. We are very proud of the quality of the products that we market," said Andrew Healey, National Marketing Manager, Peerless Products. "We believe that the quality of the Man Saver Post Driver is first class. We are very proud to be representing this great product in the Australian market."
Peerless Products has sold its first 125 post drivers and plans to sell significantly more during the height of Australia's fencing season, starting in March. The Man Saver Post Driver sells individually and bundled with an air compressor package, which includes a 6HP Honda engine that is the most popular model Peerless Products manufactures for farming.
"We expect the deal to double the production and sales of the Man Saver Post Driver," said Wendie Every, marketing representative for Rohrer Manufacturing and owner of Every Idea Marketing, the agency for Rohrer Manufacturing. "This is a real marketing success story and a great case study for any American inventor with a great idea," continued Every.
As part of Every Idea's marketing strategy, the agency recommended Rohrer enlist in significant SEO (search engine optimization) promotion to ensure those searching online for post drivers could easily find Rohrer Manufacturing. Every Idea also helped develop an online shopping e-commerce? Website so Rohrer Manufacturing, an Oregon based business that began out of Dan Rohrer's shop in Powell Butte, OR, could sell internationally with minimal investment. Rohrer Manufacturing is satisfied with its domestic distribution and is now interested in expanding internationally to places like Canada, Mexico and Australia. The fact that Peerless Products found the company from the Website is a huge testament to the effectiveness of this e-marketing strategy.
The driver is being retailed in Australia, with taxes, for approximately $1,800.00 (Australian) and the bundled air compressor and Man Saver Fence Post Driver package is approx $3,950.00 (Australian). It will be made available for any one of Peerless Products network of 1500 stores throughout Australia to purchase and sell.
About Rohrer Manufacturing
The Man Saver Post Driver was first developed by Dan Rohrer in response to a fence builder who was complaining about his back and wishing for a "wonder tool." In less than a month, the first Man Saver Post Driver was manufactured and sold. Since then, Dan Rohrer has developed a series of fence post drivers and expanded their capabilities with various adapters that allow them to drive almost any shaped post on the market up to 3.5" diameter. It is used in farm, ranch, rangeland, or vineyard fencing and it is also a great tool for highway department fence post driving needs. The products are American made and manufactured locally in Prineville, Oregon. To learn more or to view a demonstration video, visit http://www.fencepostdriver.com
About Peerless Products Australia
Based in Bendigo, Victoria, Peerless Products is an Australian owned and operated family business committed to providing the very best service to customers. Its nationwide dealer network and an extensive support team ensure customers get all the technical and product advice needed. As part of its commitment to the industry, Peerless Products continually researches and manufacturers state-of-the-art technologies and products worldwide. As the founding active member of the Australian Commercial Air Compressor Association, Peerless Products ensures that the highest standards are maintained and that its customers purchase genuine rated air compressors. To learn more, visit http://www.peerlessproducts.com.au/.
###