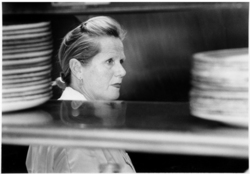 "This isn't about statistics," say the Momo brothers in near unison – "it's about helping people find the courage to cope with tragedy."
Princeton, NJ (PRWEB) March 4, 2010
The Momo brothers knew they would respond to the Chile crisis, just as they had a presence at the historic Nassau Inn when it spearheaded local New Jersey restaurants to raise $10,000 dollars for Haiti's quake victims. In terms of death tolls, the two calamities are worlds apart. "But this isn't about statistics," say the brothers in near unison – "it's about helping people find the courage to cope with tragedy."
When his phone rang at 4 a.m. in the morning, Carlo Momo wondered if something had happened at Teresa's Caffe– the ever-popular Princeton, NJ restaurant he and his brother Raoul have owned and operated since 1997. But the call was about Teresa herself. A major earthquake had struck Chile.
So began a nearly twelve-hour vigil at the Momo homes. Teresa Azario Momo, the inspiration and guiding force for Terra Momo Restaurant Group, is of Italian descent. But about a decade ago she retired to her late husband's homeland – and settled in his beloved Andes Mountains. That Saturday afternoon, heartbroken by reports out of Santiago, the Momos got word: Teresa is fine. "A nervous wreck from dozens of aftershocks," said Carlo – "but otherwise ok."
Still, the Momo's felt the pull. "It couldn't be more personal," says Raoul of the Chile quake. "Not only do we have strong family ties there, but some of its great cultural values: camaraderie, hospitality - help inform our restaurants' ambiance. "
Mindful of the risks of following one fundraiser, but knowing that the Princeton Community always steps up, the Momo's decided to re-cast two previously scheduled Chilean Wine events at their Mediterra Restaurant in Palmer Square. The American Red Cross will receive all the money raised and earmark it for Chile relief.
Monday March 8 at 6 p.m.
Chilean Wine Tasting, 4 Chilean Wines and light fare will be served.
$25 per person
Wednesday March 10 at 6 p.m.
Celebrate the Regions of Southern Cone, Chile & Argentina.
Enjoy traditional cuisine for the table, with wine pairing.
$45 per person
ALL FOOD AND WINE COSTS DONATED
Location: Mediterra Restaurant, 29 Hullfish Street, Princeton, NJ
Phone: 609-252-9680
Reservations: Open Table.com
More information click here to visit Mediterra on Facebook
###