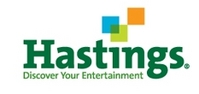 Our customers have been reserving these new releases all winter and we're planning fun evenings to celebrate
Amarillo, TX (PRWEB) March 4, 2010
Hastings Entertainment, Inc. (NASDAQ: HAST) announced today that March starts the countdown toward the biggest release week that gamers and vampire reading enthusiasts have seen since the 2009 releases of HALO 3 ODST and Twilight on DVD.
No matter what fans like to sink their teeth into, Hastings customers are gearing up for exciting spring break Midnight Release parties for God of War III and the Twilight: The Graphic Novel on Monday, March 15, 2010 as well as New Moon DVD/Blu-ray on Friday, March 19, 2010.
"Our customers have been reserving these new releases all winter and we're planning fun evenings to celebrate," said Kevin Ball, Vice President of Marketing for Hastings Entertainment. "For the New Moon midnight release parties, each of our stores will give away one collectible Tonner Edward Cullen 17" Character Figure, priced at $139.99, after midnight. We're anticipating that New Moon fans will be out in force for these midnight release events," said Mr. Ball.
Hastings Entertainment will host the in-store parties at all Hastings locations. All parties will begin at 10:00pm, local time. Please contact store managers at the Hastings nearest to you for details on the Midnight Release parties in your area. Customers can go to http://www.goHastings.com to find their nearest store location.
About Hastings
Founded in 1968, Hastings Entertainment, Inc. is a leading multimedia entertainment retailer that combines the sale of new and used books, videos, video games and CDs, as well as trends merchandise, with the rental of videos and video games in a superstore format. We currently operate 148 superstores, averaging approximately 21,000 square feet, primarily in medium-sized markets throughout the United States.
We also operate http://www.goHastings.com, an e-commerce Internet Web site that makes available to our customers new and used entertainment products and unique, contemporary gifts and toys. The site features exceptional product and pricing offers. The Investor Relations section of our web site contains press releases, a link to request financial and other literature and access our filings with the Securities and Exchange Commission.
For more information, please contact Advertising Manager, Cherie Norman at (806) 677-1482.
###