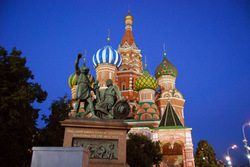 We credit our incredible experience to the people who led us. Perhaps MIR stands for "Make It Remarkable". -Caviar Affair Magazine
Seattle, WA (PRWEB) March 8, 2010
When Caviar Affair – a glossy quarterly magazine self-described as "celebrating worldly indulgences and luxury living" – began looking for a company to custom-design a lavish tour to Russia and Ukraine, they searched until they found MIR Corporation (http://www.mircorp.com), a U.S.-based tour operator that has been in the business of providing travel to Russia and beyond for over 20 years. The magazine's mission is to "search out the impeccably designed, the obsessively well-fashioned, and the startlingly beautiful." MIR's specially crafted luxury travel tour to Moscow, St. Petersburg and Kiev, Ukraine, designed for the Publisher and Editorial Director of Caviar Affair fit the bill, as featured in the Winter 2010 issue of the magazine.
MIR Corporation introduced Caviar Affair and its readers to Russia via a VIP tour of the Diamond Fund inside Moscow's Kremlin. This visit gave the travelers a blinding glimpse of the "outrageous bling" of the 189-carat Orlov Diamond and Catherine the Great's pearl-encrusted coronation crown. The tour to Russia continued with a private tour of Pavlovsk Park by horse-drawn carriage and a Russian vodka and caviar tasting during a private boat cruise on St. Petersburg's canals. These events, and many other extraordinary experiences, were arranged by MIR through their extensive connections on the ground in Moscow and St. Petersburg.
Ukraine travel was next on the Caviar Affair tour with a stay in glittering Kiev, the cradle of Slavic civilization, during Ukraine's Independence Day celebrations.
The article concludes, "Today, now that we're back in the U.S., we credit our incredible experience to the people who led us. Perhaps MIR stands for 'make it remarkable.'"
MIR is pleased to announce its feature in the magazine and proud to continue to offer the kind of "remarkable" luxury travel favored by readers of Caviar Affair. More information about MIR's bespoke luxury travel services and independent travel packages can be found at http://www.mircorp.com, by emailing privatejourneys (at) mircorp (dot) com or by calling 800-424-7289.
About MIR Corporation
MIR, whose name means "peace" and "world" in Russian, has specialized in the crossroads of Europe and Asia for 23 years, since founder Douglas Grimes organized his first tour to Russia (http://www.mircorp.com/western_russia.asp) as a young volleyball player. MIR and its Seattle-based experts design imaginative small group trips and independent travel packages and work closely with local affiliates to carry them out. MIR has unmatched expertise in assisting travelers with customized luxury travel, Ukraine travel, or a tour to Russia.
MIR has twice been named one of National Geographic Adventure's "Best Adventure Travel Companies on Earth," and is a preferred operator for museum, alumni and special interest organizations across the country. For more information, please visit http://www.mircorp.com or call 800-424-7289.
###