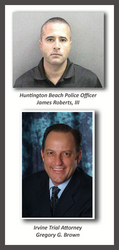 Citizens should not be fearful that their own police department will cover up criminal conduct by an officer of the law - - Irvine, California Attorney, Gregory G. Brown
(PRWEB) March 6, 2010
In addition to the civil lawsuit filed by the Irvine law firm of Brown & Charbonneau, LLP, new charges have been filed by the District Attorney. The criminal felony complaint for Domestic Violence is now up to 20 felony counts and includes "rape" - - "sodomy by force" - - "criminal threats" - - "domestic battery" - - "false imprisonment by force" - - "Aggravated Assault" - - "dissuading a witness by force or threat" - - "vandalism." Felony Complaint Warrant Amendment 1, case number 09CF2191& OCSO 08-250088.
The complaint alleges three new felony counts:
-Count 18 - "Spousal Rape by Force" against Jane Doe #1
-Count 19 - "Sodomy by Force" against Jane Doe #2
-Count 20 - "Forcible Rape" against Jane Doe #2
"Now with both civil and criminal charges pending, Mr. Roberts will be facing very serious consequences if the charges prove true," says Gregory G. Brown, a certified civil trial specialist.
Brown says that "Mr. Roberts will now have a very difficult time arguing that his former spouse is making this all up (as he has claimed in the past) now that other victims have come forward." "Of course, the 911 tapes should verify the victims' claims as well", says Mr. Brown
Brown also informs that "there are similar cover up issues with the two female victims." He says that, "on one occasion, the former wife called 911 when James Roberts showed up at her home intoxicated and broke furniture in a rage. Apparently, the 911operator then called the husband to ask which officers he wanted to respond," said Mr. Brown
Mr. Brown believes that "citizens should not be fearful that their own police department will cover up criminal conduct by an officer of the law ."
On November 24, 2009, Gregory G. Brown filed a civil lawsuit by two of the victims alleging assault, battery, false imprisonment, stalking, breach of mandatory duty, negligence per se, negligent supervision, negligent retention, intentional infliction of emotional distress, negligent infliction of emotional distress civil rights violations. The suit was filed in the Orange County Superior Court. James Roberts is representing himself in the civil matter, case number 30-2009, 00323224.
###