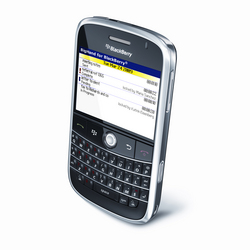 BigHand offers additional security of recordings on BlackBerry devices beyond the native settings controlled by BES policies such as encryption of internal & external media and remote kill.
(PRWEB) March 8, 2010
BigHand, the leading voice productivity vendor in the global legal community, has today announced that Top-30 law firm Nabarro LLP has deployed BigHand for BlackBerry® smartphones to 460 lawyers in one of the largest deployments of a BlackBerry dictation application globally. The BigHand for BlackBerry deployment will enable lawyers to get more tasks done when working remotely, enhance client service and is part of a firm-wide refresh of mobile devices that is expected to reduce costs by up to 40%.
Andrew Powell, Director of IT at Nabarro commented:
''Nabarro has been both a BigHand and BlackBerry customer for several years. Our recent BigHand for BlackBerry implementation was a central part of a wider programme of IT simplification and efficiency in response to the economic downturn. We have used VPN and least cost routing principles to significantly reduce our telecoms cost base whilst the BlackBerry deployment to more than 460 lawyers has allowed us to retire overlapping technologies such as DECT and standalone mobile telephony whilst introducing new technologies such as extension mobility across both VOIP and Blackberry handsets.
BigHand offers additional security of recordings on BlackBerry devices beyond the native settings controlled by BES policies such as encryption of internal & external media and remote kill. Extension mobility and unified messaging have also recently been introduced, and are making a significant contribution to business agility.''
About BigHand
BigHand is based out of Chicago, London, Sydney, and Toronto. BigHand is a Microsoft Gold Partner, BlackBerry ISV Partner, and was voted as 'Dictation System of the Year' at the 7th Annual Law Technology News (LTN) Awards 2009. BigHand was also nominated at the British Legal Awards 2009 as 'Technology Provider of the Year'. Additionally BigHand won 'Mobile Product of the Year' at the CNet Business Technology Awards 2008 and 'Best of Breed System of the Year' at the Legal Technology Awards for 2008. Further information is available at http://www.bighand.com
Contact:
Jo Beckwith, UK Marketing Manager, BigHand Ltd
###