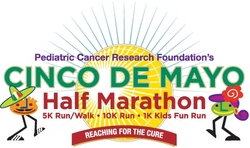 "Everyone here works 50-55 hours a week but we make time for this event... [PCRF] is a good cause and after all, this is a great family event. The kids really love the petting zoo and the rock climbing wall." Tom Tappan, Vice President, JL Patterson Co.
Irvine, CA (PRWEB) March 7, 2010
The Pediatric Cancer Research Foundation (PCRF) announced the official sponsors for the annual "Reaching for the Cure" Half Marathon | 10K 5K Run | 5K Walk | 1K Kids' Fun Run. 2010 Corporate Level Sponsors include: Shulman Hodges & Bastian, Howard Building Corporation, WOW Oral Care, DLA Piper, LLC, p11 Creative, Mission Viejo High School, LBA, and Taco Bell.
Classic Level Sponsors are: Universal Services of America, Haskell & White, The Villages and the Park – Irvine, Morgan Stanley, Turnip Rose, J.L. Patterson, Amica, Fidelity Title, Deloitte, and Central Parking System, Inc.
Rainbow Level Sponsors are: Jb3d, Sterling BMW, SRC Construction, and Environmental Program Management, LLC.
OC FAMILY is once again the Kids Fun Zone sponsor, while Cox Communications will sponsor the Kids' Fun Run.
Creative Flavor Concepts is sponsoring the race bibs. Loma Linda University Children's Hospital is sponsoring the event medals. Radiant Systems, Inc. is sponsoring the food festival. Pascoe Dirpes and B. Braun are sponsoring mile markers.
Other product and service sponsors include: CPK, 24 Hour Fitness, Clif Bar, Irvine Spectrum Center, Doubletree Hotel, Ralphs, Wahoo's Fish Taco, Rock N' Road Cyclery, Road Runner Sports, Hansen's, and Popchips.
When asked why J.L. Patterson Company is a sponsor of the event, Vice President Tom Tappan responds, "Everyone here works 50-55 hours a week but we make time for this event." J.L. Patterson is an engineering firm that is sponsoring the event and will bring a team to the event for the 4th consecutive year. He gets great participation from his employees and is active in recruiting them to the event, "We encourage them strongly, send memos, remind them of the good cause and after all, this is a great family event. The kids really love the petting zoo and the rock climbing wall."
Tom says his company has gravitated to the event as a way to bring employees' families closer together. "We have an intern who is 22 and we have an engineer who is 79. They'll both be there. And the 79-year old hasn't missed one!" The J.L. Patterson Company provides engineering services to railroad companies. Two of his customers recently learned of the company's involvement and have asked to be invited to be a part of the team. The company goes further by kicking in $1500 to sponsor and matching every employee and family contribution dollar for dollar. PCRF salutes Tom Tappan and the J.L. Patterson Company for their great support of children with cancer.
The 2010 Cinco de Mayo Half Marathon and 10K Run, 5K Run/Walk, and 1K Kids Fun Run will be held on May 2, 2010 from 7:00 am - 11:30 am at the Irvine Spectrum Center. Once again sponsors, walkers, and runners will join PCRF in helping fund research that will find a cure for pediatric cancer. This wonderful community event will have all of the fun that runners have come to know and love. In the Half Marathon, runners will travel through Irvine's beautiful tree-lined running and biking trails, parks and lakes.
PCRF is offering special pricing now through April 15, 2010
Fundraising efforts are well underway as teams gear up to raise more funds than ever before. PCRF Executive Director Nancy Franks is excited about the fundraising efforts and registration numbers so far, "We are pleased with the number of participants who have already signed up and have begun raising money as teams. People who have the mission close to their hearts - families, school teams, and businesses affected by pediatric cancer – comprise the majority of the teams. The team captains are very enthusiastic this year!"
For additional information contact: Taite Bergin, 949.859.6312
About PCRF:
The Pediatric Cancer Research Foundation, a non-profit organization, was founded in 1982 to improve the care, quality of life and survival rate of children with malignant diseases. Since its inception, PCRF has raised over $22 million to fund cutting edge research that leads to medically sound treatment protocols for childhood cancers. PCRF is privately supported through donations from individuals, charitable foundations and businesses that recognize the urgent need to improve treatment and cure childhood cancers. All contributions to PCRF are tax deductible.
###